What are Home Floor Plans?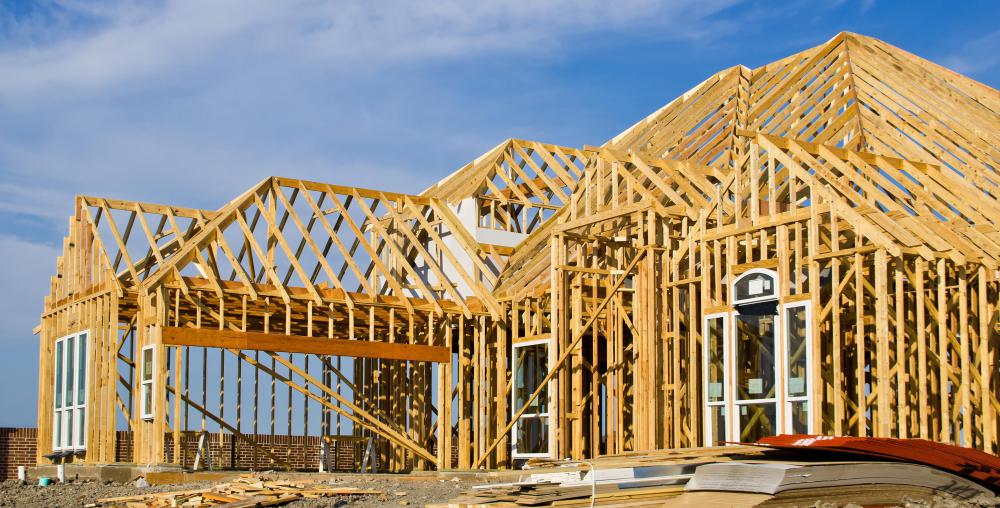 Home floor plans are relatively simple line drawings of the layout of a home, as if one were looking down at the house from above. They are not used for building or construction purposes; for this, the contractor will need actual blueprints, which have much more detail and specific measurements. Instead, home floor plans are often reviewed by people planning to build or purchase a new home.
Home floor plans are drawn to scale, and typically include measurements for each individual room, as well as staircases, doors, and windows. Measurements for bathroom items may be included as well, such as the bathtub or sink, to give home purchasers an idea of the layout of a home. Frequently, people interested in building a new home will give home floor plans and a picture of the outside of the home to the builder, who will then be able to draw up blueprints and detailed building plans based on the simple floor plans.
There are many different types of software that people can use to create their own home floor plans. Using the software, it is easy to design one's own home, as well as to make changes until the home is perfect. The software is often very helpful, because it can help the user to manipulate the size of rooms and design of the home so that it is designed well and is proportional. Some home software also allows the user to see a virtual rendering of their home, as it might look when it is built.
These home floor plans can then be printed out and given to the builder. The builder can then make any suggestions for changes, based on his or her expertise. In addition, a home designer will be able to include the many additional details that are necessary when designing a home, such as specific choices regarding kitchen measurements, doorway measurements, or types and sizes of windows, just to name a few.
For a two-story or more house, home floor plans are created for each floor. Some realtors will also create basic home floor plans to display with a house listing, because buyers often prefer to see the layout of the home before visiting it. Some people also use these floor plans to create designs for an outdoor landscape, such as a deck, patio, or pool area, or even a garden to imagine the layout of plants.
By: leekris

Home floor plans are not used for construction purposes.

By: S. Rogo

Home floor plans are drawn to scale with measurements for each room.