What Are Gluten-Free Donuts?
Gluten-free donuts typically follow a traditional donut recipe and include a substitution for the wheat-based flour. Many bakers will use either a simple gluten-free flour or a flour alternative, which can be made by combining ingredients such as rice flour, potato starch, and tapioca starch. Some people choose gluten-free donuts because they have opted to go on a gluten-free diet, while others, such as individuals with celiac disease, have a gluten intolerance.
People who want to make gluten-free donuts will still need typical ingredients such as eggs, butter, buttermilk, sugar, and baking powder. The flour mixture or gluten-free flour alternative should be used in place of regular white or wheat flour, as the gluten in these products can cause an upset stomach or allergic reactions in an individual with a gluten intolerance. The gluten-free donuts should still be prepared in a fashion similar to traditional donuts. Dry and wet ingredients are prepared separately before being combined into a single mixture.
Once the mixture for gluten-free donuts is prepared, they can be cooked like traditional donuts. Bakers generally use a donut cutter or something round, like a jar, to cut the centers from the donuts. This extra dough can be rolled into small balls, which can then be baked or fried separately to make donut holes. Whether making donuts or donut holes, the mixture will often be fried or cooked in hot oil.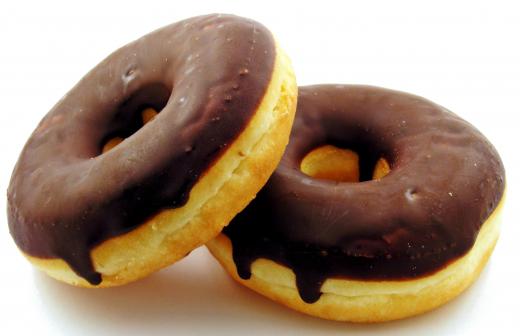 Gluten-free donuts are a popular alternative to traditional donuts for individuals who prefer to lead a gluten-free lifestyle. Many people have allergies to gluten, a substance that is found in wheat, rye, and barley products. As many baked goods use ingredients containing these products, gluten-free foods allow individuals who cannot have gluten to enjoy foods that are considered part of a traditional diet. There are many people who can tolerate gluten who have chosen to live gluten-free because they believe it can improve their digestive systems and overall health.
Individuals with a gluten intolerance might have digestive problems attributable to any number of sources or they might have celiac disease. When a person with celiac disease eats food containing gluten products, his or her immune system attacks a part of the intestines that is responsible for absorbing nutrients. This can cause the person to become malnourished or to develop painful gastrointestinal symptoms. The exact causes of celiac disease are unknown, though the disease can appear at any point in a person's life. Exact symptoms of celiac disease can vary widely in severity, so anyone who suspects he or she might have celiac disease should consult a doctor before making extreme dietary changes.
AS FEATURED ON:
AS FEATURED ON:






Gluten-free donuts.

By: gcpics

Gluten-free chocolate glazed donuts.

By: Studio Gi

Those with a gluten intolerance must avoid wheat flour.

By: xalanx

Celiac disease can cause the person to become malnourished or to develop painful gastrointestinal symptoms.