What are Different Types of Treatments for Dry Hair?
Dry hair is a common problem, and may be caused by any number of things, including the environment, overuse of styling products, or even just genetics. Dry hair often appears dull and frizzy, and it may be difficult to brush or have a lot of split ends. There are many treatments for dry hair, and it is necessary to take extra care of hair that is prone to dryness by adding extra moisture in various ways.
Some treatments for dry hair may work for one person, while others may not. Each person's hair is different, and it may take some trial and error to find one that works well. Treating dry hair begins in the shower, with shampoo and conditioner. Sometimes, one's hair can be dry because of too-frequent shampooing; if possible, it may be beneficial to cut down on the shampooing from every day to every other day, or simply a few times a week. The hair may be rinsed with plain water on non-shampoo days.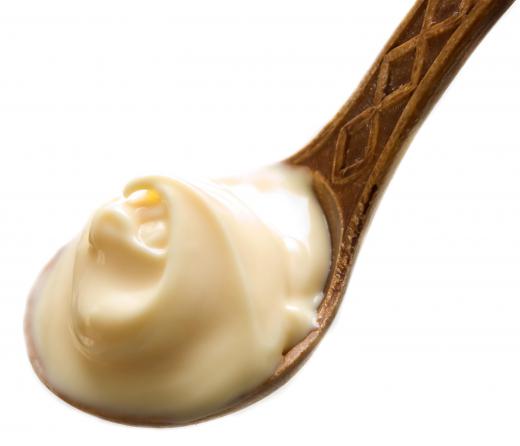 Try to choose a shampoo that is labeled "for dry hair." In addition, it is necessary to condition the hair every day. Choose a conditioner that is designed for dry hair, and try to find one that is alcohol- and fragrance-free. Once a week, at least, apply a deep conditioning or hot oil treatment to the hair. Some deep conditioning treatments may be left on overnight, while some only require a few extra minutes in the shower before they are rinsed off.
As much as possible, one of the best treatments for dry hair is avoiding the use of heated styling tools, such as a hair dryer, curling iron, or straightener. Apply a protective cream to the hair before heat styling, and remember to never brush the hair when wet; comb it gently with a wide-toothed comb if necessary. When drying hair, set the hair dryer on a cooler heat setting and aim it down the hair shaft. Use chemical hair products sparingly, such as hair spray or mousse, as well as hair dye. Finally, getting regular trims to combat split ends is one of the best treatments for dry hair.
Some natural treatments for dry hair include olive oil, eggs, and mayonnaise. For instance, rubbing approximately a tablespoon of olive oil onto wet hair, covering it with a plastic bag or shower cap for half an hour, and rinsing thoroughly is an excellent natural remedy. If choosing to do this with eggs, remember to use cool or lukewarm water to rinse, not hot; that could cook the egg right on top of the hair.
AS FEATURED ON:
AS FEATURED ON:






By: Alexandra

Mayonnaise can be used to add moisture and shine to the hair.

By: Konstantin Yuganov

Organic shampoo may help treat dry hair.

By: fmarsicano

Getting regular trims may help prevent dry, damaged hair.

By: margo555

Olive oil can help moisturize dry hair and stimulate hair follicles.

By: Africa Studio

Choose a conditioner that is designed for dry hair, and try to find one that is alcohol- and fragrance-free.

By: thelosteyeball

Hot oil treatments can be used to tame and moisturize thick, unruly hair.

By: Syda Productions

Using a wide toothed comb to work out tangles can help minimize breakage in dry hair.