What Are Common Supplement Side Effects?
Nutritional supplements have become popular as more people seek natural treatments to maintain health and manage disease. These supplements can be beneficial, but it is necessary to keep in mind that some of these supplements can be as powerful as drugs and can produce supplement side effects. For example, kava, an herb used for insomnia and anxiety, can cause liver damage in high doses and has been banned in several countries. Other supplement side effects include high blood pressure, dizziness, headaches, and muscle cramps. It is recommended that a person planning to take a variety of supplements, or to combine any supplement with a prescription drug, discuss this proposed regimen with a medical professional to avoid adverse drug interactions.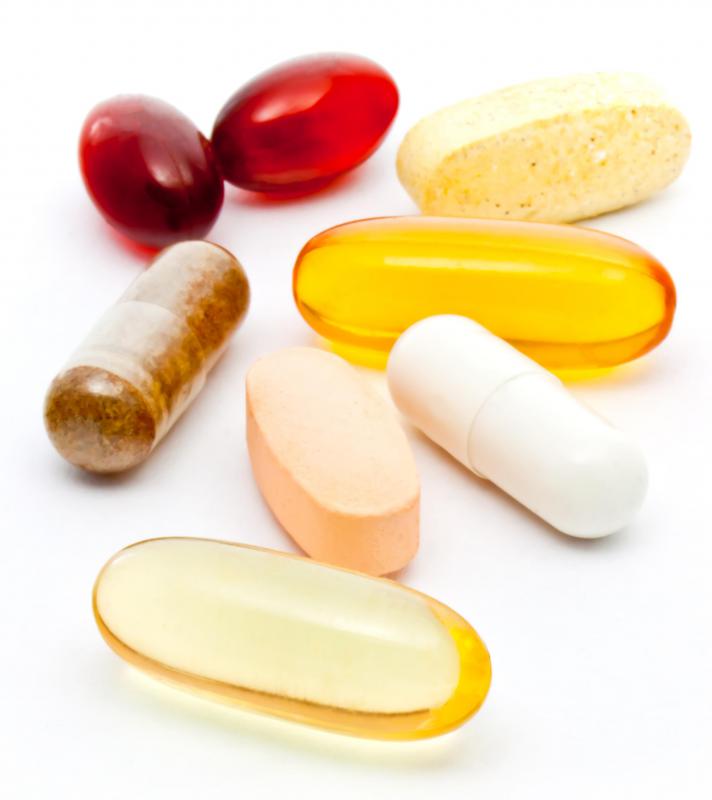 St. John's wort is an herb commonly used to treat depression. It has helped many people, but it does have supplement side effects. People taking this herb may develop photosensitivity and should use sunscreen to avoid sunburn. In addition, St. John's wort should never be ingested with any antidepressants containing monoamine oxidase inhibitors since this combination has been known to cause a life-threatening spike in blood pressure.
Chromium is an essential trace mineral that helps control blood sugar levels, and chromium picolinate is an ingredient in many dietary supplements. Since it is present in so many formulas, and many people take more than one supplement, sometimes a person can get too much chromium. This may cause supplement side effects such as dizziness, mood swings, nausea, headaches, and more. An overdose of chromium can even cause the more serious side effects of kidney or liver damage.
People trying to lose weight commonly turn to thermogenic, or fat-burning, supplements to aid the weight loss process. The herb ephedra, also known as ma huang, used to be an active ingredient in thermogenic formulas, but it caused serious supplement side effects and was banned. Since then, thermogenic products have replaced the ephedra with herbs such as country mallow and bitter orange. These herbs can cause stroke, seizures, and heart attack in susceptible individuals.
Body builders trying to increase their strength are frequent users of nutritional supplements. Creatine is an ingredient found in many of these formulas that can produce supplement side effects. It is an amino acid that occurs naturally in the body, and in other sources such as meat and fish. When supplements containing creatine are ingested, the most common side effects a person may experience include muscle cramps and diarrhea.