What Are Blueberry Bran Muffins?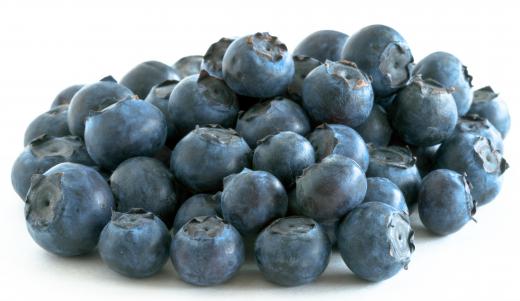 Blueberry bran muffins can be a nutritious breakfast or an energizing snack or dessert. These muffins are made by combining a number of ingredients. Once the batter is mixed together, blueberries are then added before baking them in the oven. The result is typically more like bread than cake. These types of muffins are normally served warm from the oven with a dab of melted butter.
Oats or wheat bran are often used to make blueberry bran muffins. These ingredients could be used instead of flour, or whole-wheat flour may be used in addition to the grain. Eggs, vanilla extract, and baking powder are usually required as well. When baking muffins, many other healthy ingredients are sometimes added, and these include yogurt, skim milk, and honey. This results in a homemade muffin that is not only full of fiber, but low in fat and calories as well.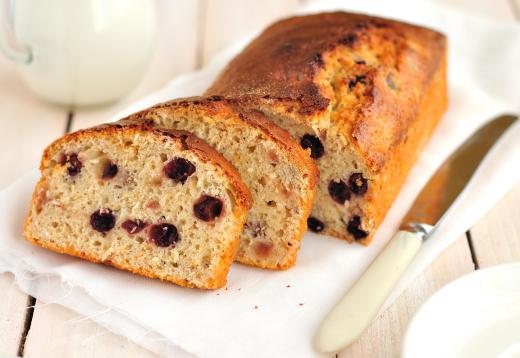 Adding washed and well-drained blueberries to the batter is usually the final step before baking blueberry bran muffins. Once the blueberries are added, the batter should be mixed one more time to evenly distribute the fruit within the mixture. This is usually best accomplished by using a large spoon rather than an electric mixer, as a mixer may crush the berries.
These muffins are baked in a moderately warm oven for around 15 to 20 minutes in most cases. It is a good idea to use a cupcake pan with paper liners when baking blueberry bran muffins. This is because greasing the baking dish is not necessary when paper liners are used. Any size pan can be used, so a cook can make either miniature cakes or regular-sized ones. When these treats are done, they are normally a light brown color on top and slightly darker on the sides and bottom.
Blueberry bran muffins usually taste very grainy and slightly sweet. They often have a coarse and grainy texture, which is one reason why many people think of them as a bread. Since they tend to be drier than other types of muffins, it is a good idea to add melted butter to them. This is best accomplished when they are warm from the oven, but the muffins could also be placed in the microwave to warm them. They are often enjoyed along with a cup of coffee or in addition to healthy breakfast foods such as yogurt or oatmeal.


By: Mariusz Blach

Blueberries provide a healthy and sweet addition to muffins.

By: Vidady

Bran.

By: dolphy_tv

Blueberry bran bread is a twist on the traditional muffin, but the recipe remains the same.