How do I Workout at Home?
Working out at home is an option for people who either cannot get to a gym, or who would simply prefer to workout in the privacy of their own home. There are many different ways to workout at home, based on one's interests and goals regarding physical fitness or weight loss. One of the best ways to workout at home is by purchasing or renting home gym equipment, which may include cardio or strength-training equipment.
Some popular gym equipment to workout at home with includes a treadmill, elliptical machine, stair stepper, or stationary bicycle. These are all aerobic machines, which deliver cardiovascular benefits by getting the heart rate up for a sustained period of time. These often allow a great deal of flexibility as well, because they permit the user to vary the speed and intensity of workouts without ever leaving the cardio machine. Strength training machines may also be used at home for weight lifting purposes.
Of course, some people do not have room in their homes, or do not want to use machines to workout at home. In that case, there are other ways to have a great, minimalist workout at home. Watching an instructional exercise video or DVD can be a great way to work out, and there are thousands of options available. For instance, one might choose to purchase an aerobics video, or one focused on dance, kickboxing, or even yoga and Pilates.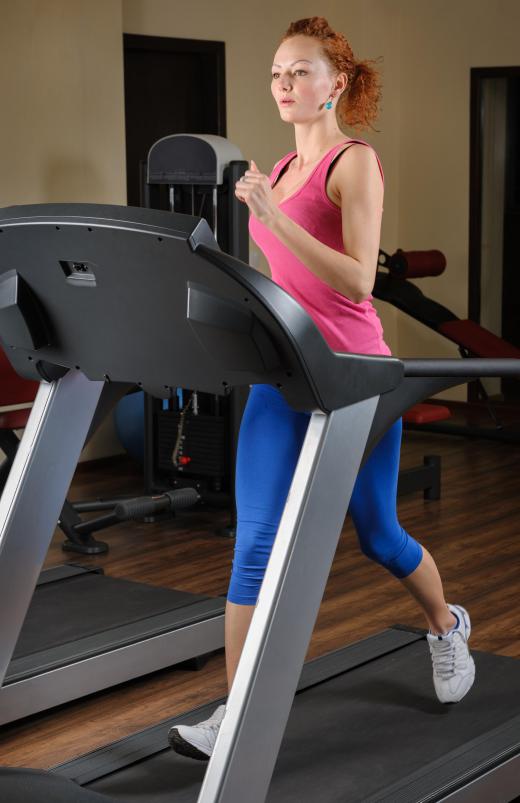 Other options for home workouts include the use of items such as hand weights, an aerobics step, a jump rope, a fitness ball, an elastic resistance band, or even a hula hoop if you have enough space. All of these can be used to work different areas of the body, and most are very inexpensive. They are small enough to be stored in a closet when not in use. Simply search online for ideas as to how to use these items for a great workout. Stretching workouts can be another great way to workout at home, and often do not require any props at all.
Another way to workout at home is to simply use what one already has around the house. Running up and down the stairs can be a great workout, for example, and does not require purchasing anything except a pair of supportive sneakers. It may take a little creativity to get a good workout at home, but there are plenty of options for people who prefer this method of getting in shape.
AS FEATURED ON:
AS FEATURED ON:






By: Gorilla

Bouncing on a mini trampoline can be a great cardiovascular exercise while having fun.

By: starush

A treadmill is a good addition to a home gym.

By: Igor Mojzes

Jumping rope can be incorporated into an at home high impact aerobic workout.

By: .shock

Step aerobics is a high-intensity cardiovascular activity, which can easily be done at home.