How do I Start a Landscaping Business?
Starting a landscaping business can be a great career move for anyone with a green thumb and a love of the outdoors. While there are risks involved in starting any new business, landscaping may easier to start up thanks to low initial investment costs and a reliance on manual labor skills. In order to start a landscaping business, it is important to have strong gardening skills, develop a good understanding of how to operate a business, and obtain any necessary licenses to operate legally.
Landscaping talent is innate in some and can be trained into others. In order to make plants, trees, and flowers grow and bloom, a good landscaper will have a comprehensive knowledge of the climate, water, soil, and nutritional requirements of plants. Landscapers are often quite creative, with an ability to turn a bare space into a fabulous garden. Drafting skills may be necessary to create landscape layouts, though not all business owners possess these skills themselves. Some people take on a partner when planning to start a landscaping business, with the agreement that one partner will run the business end of things while the other manages the actual day-to-day jobs.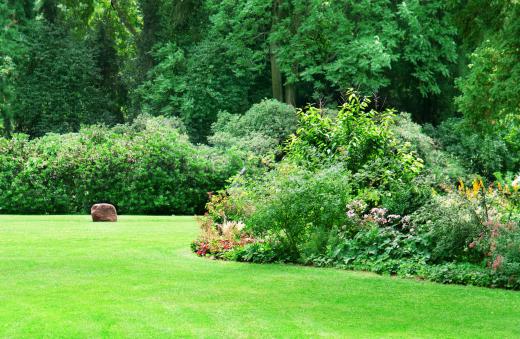 In order to start a landscaping business, an entrepreneur must develop both business and customer management skills. Trade schools and many colleges offer courses in business management that can be adapted to suit a landscaping enterprise, though some business owners rely on self-education through books, seminars, mentors, and even instinct. There are many books that cover the specific ins and outs of the landscaping business; perusing some of these volumes may be the best way to get started with opening a new business.
Once an entrepreneur has a good basic sense of the business requirements and a solid set of landscaping skills, it may be a good idea to develop a business plan. This involves creating the image and mission statement of the company, as well as setting up a management structure, creating hiring, training, and customer service plans, writing an initial budget, and setting reasonable financial goals. A well-structured business plan can serve as the founding document of the entire organization, and may be a good way to plan out the first few months of operations.
In order to operate legally, most people will need to obtain a business license to start a landscaping business. Regions and states have different laws regarding small business licenses; depending on the scope of the business, a simple small business license may be sufficient. In some regions, landscapers need to obtain a specialized license with specific requirements, including passing an examination on landscaping. Regional government offices usually have information on the specific actions required for legal licensing.
Once a license is obtained, there are a few final steps required to start a landscaping business. The entrepreneur must hire a crew, purchase all necessary equipment, and start advertising services to the community. In order to get good images for marketing brochures and advertisements, consider doing some "practice" landscaping on owner and worker homes. Not only will this give the whole crew a chance to work together, it can provide valuable examples of the quality of work provided by a new business.
AS FEATURED ON:
AS FEATURED ON:






By: alinamd

Someone interested in starting a landscaping business needs to develop a solid set of landscaping skills.