How do I Prevent Credit Card Fraud?
Credit card fraud is a crime that has grown dramatically thanks to Internet commerce and identity theft. Being able to prevent credit card fraud is the focus of many financial institutions, law enforcement agencies, and consumer advocacy groups. There are common sense ways to prevent credit card fraud, including being responsible about credit card use. There are also programs that can prevent consumer credit card fraud such as card security programs, credit monitoring services, and personal credit protection insurance that protects credit card accounts from fraudulent use.
The easiest ways to prevent credit card fraud are limiting the number of credit card accounts you use and being cautious about how and when you use them. Having credit cards only for emergencies or business uses can assist with reducing the reliance on credit cards and the chance that account information will be stolen.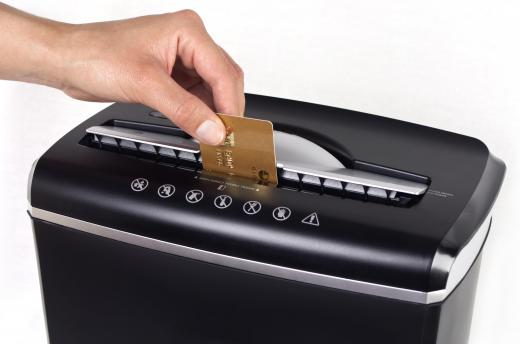 Credit card fraud can also be avoided by watching out for common credit card scams. Credit card thieves often pose as organizations seeking information by telephone, email, or mail. When making purchases over the phone or online, credit card fraud can be prevented by confirming that the other party is legitimate and never giving out credit card information to someone who calls or emails requesting this information. A trustworthy company will never initiate a request for your credit card information in this manner.
Many banks and loan companies provide a service to prevent credit card fraud from happening to consumers. This is usually an automatic service that continually monitors the types of transactions and the amounts charged and will "flag" the account if suspicious credit card activity occurs. While this can be inconvenient if a credit card account is put on hold because of a suspected event, it is an effective way to prevent credit card fraud in many cases.
In addition to bank-sponsored credit card security programs, consumers can also prevent credit card fraud through credit monitoring services. This type of service is generally offered by a financial institution, but it can also be handled through a legal service or an insurance company. The credit monitoring service watches the credit card accounts to alert the cardholder to any potential threats to his credit card accounts, such as overseas transactions, unusually high numbers of purchases, or online activities that are out of character for the cardholder.
AS FEATURED ON:
AS FEATURED ON:






By: photoblink

Shredding credit cards when no longer used can help prevent them from being stolen.

By: gpointstudio

Credit card holders have legal protection against fraudulent credit card charges.

By: sleep24Photo

Credit card fraud is one of the most common problems facing consumers in the world today.

By: tarte1987

The easiest way for people to prevent credit card fraud is by only having one credit card account.