How Do I Make a Vegan Meal Plan?
Making a vegan meal plan often requires a decent amount of creativity, as many recipes call for some type of animal protein or by-product. To start, put together a collection of vegan recipes, including those you have tried and those you want to try. Then, look through your pantry, fridge, and local store advertisements to determine what you have on hand and what is on sale that week. Pull recipes from your collection based on these ingredients and then plan out the meals that you will prepare for a set amount of time. Once you've done this, look at your vegan meal plan as a whole to ensure that you will be getting enough protein and calcium, two nutrients that are sometimes easy to lack in this type of diet.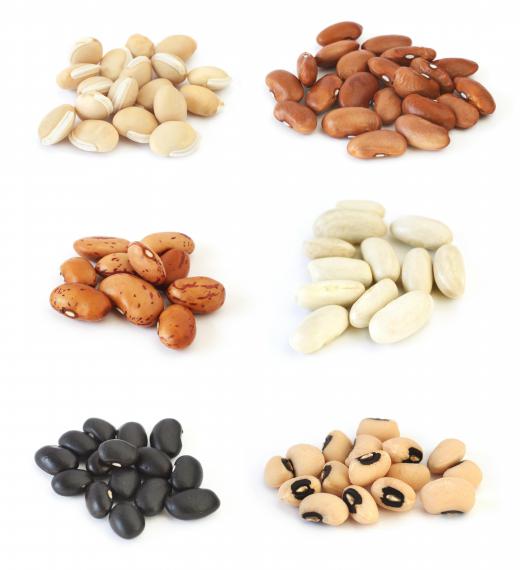 Putting together a binder, notebook, or envelope of recipes that you either love or want to try is the best way to start a vegan meal plan. This will prevent you from having to look through several books, notebooks, or websites each time, and you can continue to add to the collection as you find meals that interest you. Even for recipes that you already have memorized, including those in your collection, will allow you to look over the ingredients that you need quickly and easily when making your meal plan and shopping list, preventing you from accidentally forgetting something at the store.
Every time you sit down to make your vegan meal plan, take some time to look through what you have at home and what will be on sale at your local stores. This will give you an idea of what staples you will need to stock up, and what recipes in your collection will be most cost-effective. For example, if your local grocery store has black beans on sale that week, planning on making meals that include this healthy protein source can save you a fair amount of money.
Once you know what ingredients are readily available to you, pull the different recipes out that you plan to make and write your meal plan. You can organize it by date or simply list the meals that you will have in the house. If you plan to re-purpose leftovers, it can be helpful to plan the meals by date so that you do not accidentally forget about something in the refrigerator that you were planning to use later. Once you've written out your vegan meal plan, temporarily store the recipes with the plan; this will make creating your shopping list and finding the recipe that you need each day faster.
Before you commit to your new plan, look it over to make sure that you will be meeting all of your nutritional goals. There are a few nutrients that are commonly low in vegan diets, with protein being one of them. To make sure that you are getting enough, look at each day that you have planned and make sure that you are going to consume at least five servings of legumes, nuts, tofu, or other foods containing protein each day. It can also be beneficial to pay attention to how much calcium you will be getting, so check over your meal plan for a wide selection of dark green vegetables, which are naturally rich in calcium.


By: monticellllo

Fruit and vegetables, which make up a large part of a vegan diet.

By: tfazevedo

Beans are a good source of protein in vegan meals.