How Do I Maintain Blond Hair?
Maintaining blond hair, whether it is dyed or your natural color, can often require a fair amount of attention. To keep your locks bright and shiny, it can be helpful to use shampoo and conditioner that are meant for blond locks. If you bleach your hair, using a deep conditioning treatment one to two times a week will keep the moisture level balanced. Diligently protecting your hair from sun and chlorine will also keep it healthy.
There are several different shampoos and conditioners on the market that are specifically made for certain hair colors, including blond hair. While all hair colors can benefit from using these types of products, those with blond hair often see the best results. These specialized products can help to prevent your light-colored locks from turning brassy or changing colors due to environmental factors. Certain shampoos and conditioners can also help to blend in the roots of your hair to your blond color, which can be especially useful if you have your hair bleached or colored and want to stretch the time between hair appointments. As blond hair has less pigment, it is also naturally drier than brown or red hair, and shampoos and conditioners specifically meant for blonds are often more moisturizing than other varieties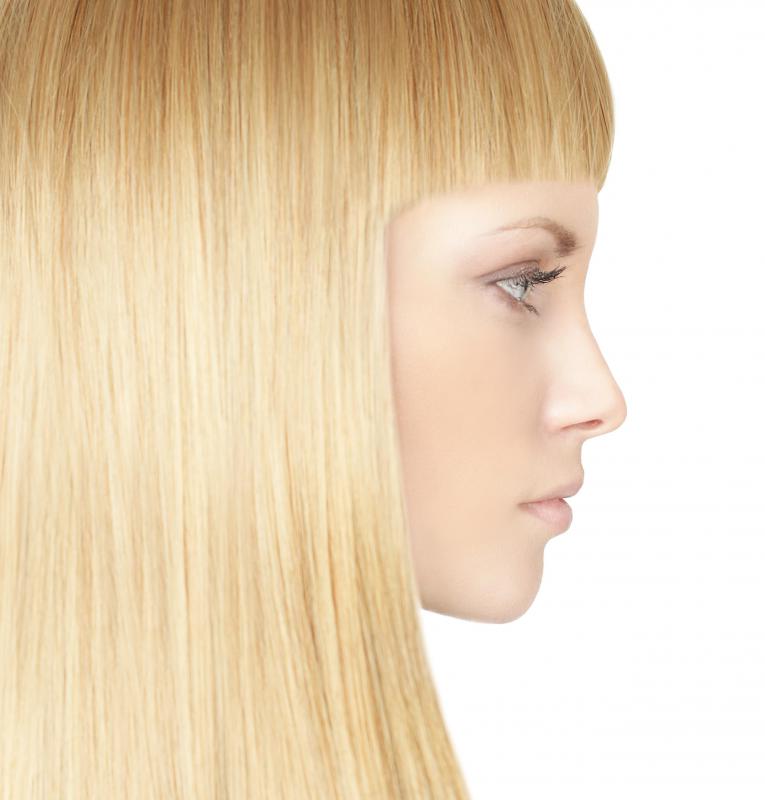 Moisture is important when maintaining blond hair, especially if you bleach your hair to achieve your current color. In order for a person who is not naturally blond to turn his or her hair this color, the existing pigment in his or her locks needs to be removed, most commonly with bleach. During the bleaching process, the hair's pigment is not the only thing removed from the hair; several nutrients and the hair's ability to maintain its moisture is also compromised. For this reason, it is important to use a high-quality deep conditioner one to two times a week to restore your hair's moisture. If you have the time and money, a deep conditioning treatment once a week at a salon is also a good idea.
While all hair colors change when exposed to the sun or chlorine, blond hair is much more likely to visibly change due to its lack of pigment. When out in the sun, it is important to use a styling product with SPF in it or to cover your hair with a hat or scarf. This will protect your hair from sun damage, which can dry out blond hair even further, or from turning brassy, which is common when dyed hair is exposed to excess sunlight. To maintain blond hair, it is also important to protect it from chemicals such as chlorine. Before swimming in a pool or using a hot tub, thoroughly wet your hair down in a shower or with a hose, as wet hair cannot absorb enough chlorine to change the color.