How do I Grow a Tea Garden?
Growing your own tea garden can be as simple as planting a few pots or as complicated as cultivating an entire backyard. By growing your own tea ingredients, you will be treating yourself to fresh herbal teas straight from the yard. You can also control the ingredients in your tea, which ensures that you can avoid unwanted ingredients or pesticides.
Choose what herbs you wish to plant in your tea garden. Chamomile, peppermint, lemon verbena, and echinacea are all good basic herbs to start with. If you are an experienced gardener or want to try more exotic tea varieties, try chocolate mint, pineapple sage, or rosehips. Most herbs are fairly easy to care for and difficult to kill, so the more you plant, the more you will have to choose from.
Plant tea herbs in small pots or in separated patches of ground. Some herbs, like mint, will spread easily, and care should be taken to keep each herb in its own area to avoid confusion. You can also plant large pots with a variety of herbs, just make sure each type has similar care instructions to ensure that they will all flourish together.
Consider purchasing a reference book on herbs or a tea-blending guide. These books can tell you whether to harvest the fruits, flowers or leaves of each herb and common blends you may want to try. Herbal medicine guides may also give you information on the possible beneficial healing properties of different herbs, allowing you to whip up an herbal remedy of slippery elm, chamomile and echinacea the next time your throat is feeling tickly. Books on tea-blending can also give you valuable information about drying herbs for future use, allowing you to have fresh-tasting tea all year round.
Once you have your basic herbs in your tea garden, consider growing other plants that can be complimentary to blending tea. Fruits such as blackberries, raspberries or peaches can be dried and added to your personalized tea mixes. Big showy flowers like hibiscus, jasmine, and roses can also be mined for tea ingredients. While your garden need not be totally tea-centered, you may be surprised at the variety of plants which can find their way into a delicious cup of tea.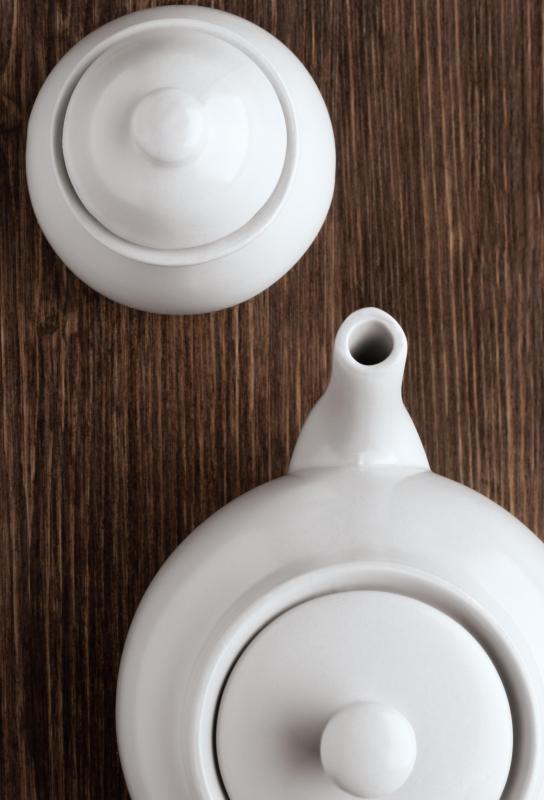 Your tea garden can be as simple or elaborate as you like, depending on your time and resources. In Japan, one of the foremost tea-drinking societies in the world, a tea garden is a meditative place where brews are sipped for the spiritual pleasure they give as well as their tastes. England also has a tradition of carefully manicured tea gardens, with each herb carefully in its place and surroundings meticulously detailed to match. If you have an unlimited budget, you can turn an entire backyard into a tea-growing-and-sipping-paradise, but even with smaller resources, a comfy chair and small table can give you a quiet outdoor spot to enjoy your fresh tea.
Star jasmine makes a good addition to a tea garden.

A cup of herbal tea.

Plant hibiscus for beautiful petals that can be used in tea.

By growing your own tea garden you can treat yourself to fresh herbal teas from the yard.

Organic gardeners who grow their own herbs for tea can be sure that they are pesticide-free.

Jasminum sambac, also known as Arabian jasmine, is often used to make fragrant jasmine tea.