How Do I Get a Special Education Certification?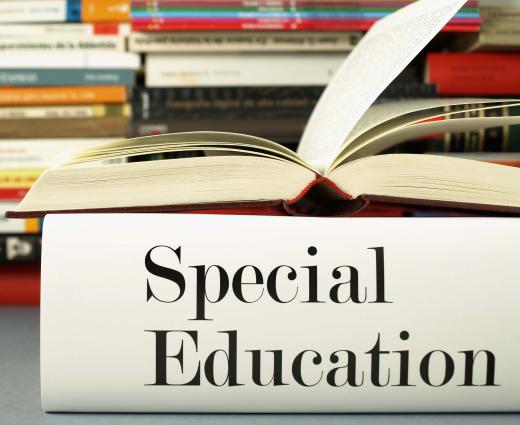 Jurisdictions vary in terms of the requirements they set for individuals who want special education certification. In general, however, you will need at least a bachelor's degree and a minimum amount of credits in special education. Some jurisdictions, however, require master's degrees for certification. Interestingly, some jurisdictions have programs allowing candidates to secure temporary certification while they fill in missing requirements. Additionally, you will likely have to pass a certification exam and submit to background checks in order to earn certification.
Earning a college degree is likely to be your first step when you seek special education certification. If the college or university you plan to attend offers a bachelor's degree in special education, this may prove the best option for pursuing certification. If not, you can earn another type of education degree instead. Additionally, many jurisdictions make it possible to earn education certification even if you have a degree in a non-education field, but earning an education degree is the most direct route to your goal.
No matter what degree you choose to earn as you work toward special education certification, you will likely need a minimum level of preparation specific to the field. For example, some jurisdictions will require you to complete a minimum number of semester hours that are focused on special education subjects. You can typically contact the board of education or a similar organization in your jurisdiction to learn the exact requirements you will face.
There are some jurisdictions in which you will need education beyond a bachelor's degree to earn special education certification. Some jurisdictions require those seeking certification in this field to earn master's degrees in education or special education, with special education being the preferred choice. If you attend graduate school full time, you can complete such a program in just a year or two after you graduate from a four-year college or university. Many graduate schools offer part-time options as well, but they may require you to spend more years on your education before you can earn a graduate degree and seek certification.
If you decide to seek special education certification after pursuing a non-special-education career, you may lack some of the coursework required to earn the credential. Some jurisdictions have special programs you can take advantage of in such a case. For example, you may be able to receive a temporary certification while you work toward meeting the criteria for permanent certification.
Most jurisdictions have testing and background requirements for those seeking this type of certification. You will typically have to pass a standardized test to be eligible for certification. You may also have to submit to a criminal background check and child abuse clearance as part of the process.


By: alejandro dans

State education boards typically create the requirements for special education teacher training.