How do I Decorate a Small Living Room?
Some of the keys to decorating a small living room are choosing fabrics, paint colors, furniture, and accessories that make it feel more spacious. After all, a living room is supposed to be a place that feels comfortable, not cramped. Some of the basic decorating techniques to create this effect include using light colors and mirrors to make the space feel larger, avoiding clutter, and making sure to optimize the usage of the space that is available. Not only should the walls be painted in light colors, but it is also useful to decorate a small living room with furniture that is light in color, either in terms of its finish, the paint that is used on it, or its upholstery. Without following these decorating principles, a small living room can quickly start to feel like a cluttered storage closet or a dingy cave.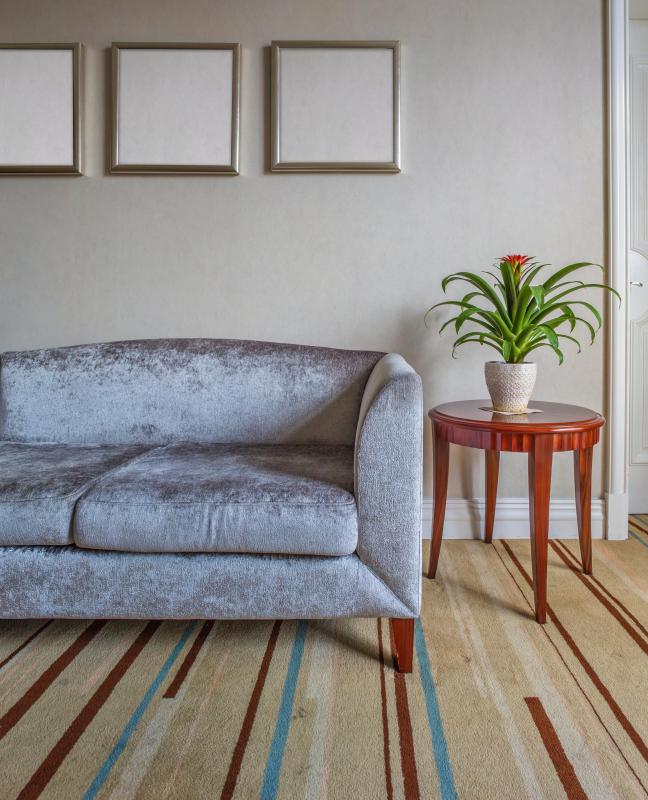 Mirrors are a wonderful way to make a small living room feel much larger. Mirrors can be used in almost any situation to make a room feel more spacious. Also, mirrors are a great way to reflect light, which can also make a small living room look larger. Instead of hanging a painting or framed poster above a console table or credenza, consider hanging a large mirror there. If there is a closet in the living room, consider outfitting it with mirrored doors.
One of the most important rules in decorating a small living room is avoiding clutter and minimizing the amount of furniture in the room. If too much of the floor space is taken up by furniture, then the room will feel cramped and uncomfortable. On the other hand, if the room is outfitted with furniture that matches its scale, it will feel much more livable. Instead of having a large couch, for example, consider having a love seat. Make sure that any excess furniture is removed or used elsewhere in the house.
Finally, make sure to select furniture that offers the greatest amount of storage. If the small living room will be outfitted with a bookshelf, for example, consider purchasing a bookshelf that will reach from floor to ceiling. In addition to books, the extra storage space can be used for movies, trinkets, and even baskets to contain children's toys or craft projects in process such as one's knitting work. Also consider purchasing a coffee table that has storage underneath.