How do I Choose the Best Vessel Sink Faucets?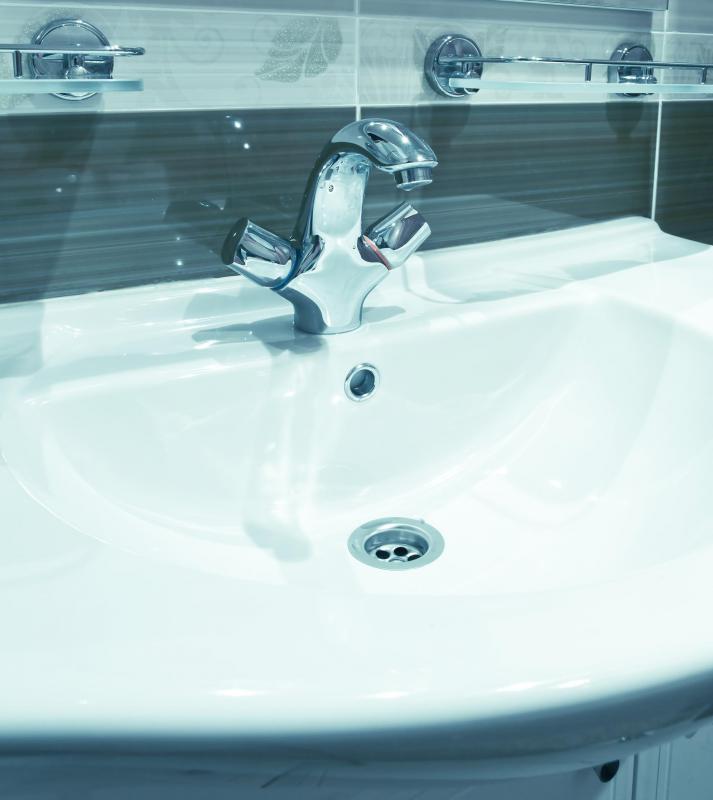 If you install a vessel bathroom sink, you will need to choose a faucet to go with it. Since these sinks are a bit different from most in that the bottom sits on top of the counter, rather than buried beneath it, they are typically paired with equally interesting vessel sink faucets. Before you choose the best faucet for your sink, you will need to take into account whether you want to mount it on the wall or countertop, and also decide how many handles you would prefer. Other details that can largely influence the appearance of your sink include the type of spout and the style, as vessel sink faucets range from contemporary to traditional.
Your first decision regarding vessel sink faucets is whether you prefer the kind mounted on the wall or the type that attaches to the countertop. The wall-mounted kind allows you to keep your bowl close to the wall, so that you have more counter space, as you do not have to save room for the faucet on the countertop. On the other hand, countertop-mounted types usually rise higher than the wall-mounted vessel sink faucets. Make your decision based on the amount of counter space available, as well as the look you prefer, but also be aware that the wall-mounted faucets will be more difficult to install, as the pipes will have to be rerouted through the wall.
Like most other sink faucets, the kind for vessel sinks can come with either one or two handles. If you like the ability to mix both hot and cold water, you should choose a faucet that has two handles, as there is one for each temperature. If you do not anticipate needing to mix hot and cold water together, you can opt for the single handle, which takes the water from cold to hot in one turn of the lever. Keep in mind that vessel sink faucets with two handles are usually more expensive.
If you enjoy the unique look that your vessel sink offers, consider continuing the interesting appearance with a faucet that creates a waterfall look rather than a single straight flow of water. If you opt for the typical spout instead, consider whether you prefer a narrow or wide flow of water. Take the size of your sink into consideration when deciding, as a wider flow may cause water to spray out of a small sink, making a narrow spout best in this case.
A final consideration to make when choosing vessel sink faucets is the style you prefer. For example, modern faucets are often made of glass, with straight, clean lines and unique shapes. On the other hand, traditional faucets are usually somewhat curved, sometimes with ornate designs carved into the metal. Make sure that it matches the rest of the bathroom's look before you make your decision.
By: Vladitto

Handle type, spout type, and water flow should all be considered when buying a new bathroom sink faucet.