How do I Choose the Best Vanilla Body Scrub?
There are a number of skin care manufacturers and bath product companies that sell vanilla body scrub. The best way to choose between them is to consider their intended use and the skin type in the areas where they will be used. Most body scrubs are made with either salt or sugar as the exfoliant. For those with sensitive skin, it is best to choose a vanilla body scrub made with sugar, no matter where it will be used on the body. This is because salt can irritate and dry out the skin, especially if the skin is already prone to sensitivity and breakouts.
If the scrub will be used on areas that are regularly shaved, such as the legs, sugar is also the best choice. Even smooth shaves can leave the skin slightly irritated. Using a salt scrub after shaving, even 24 hours later, can cause an unpleasant stinging sensation all over the skin on the legs.
Except for being a poor choice for skin that is sensitive or regularly shaved, salt can be an excellent exfoliant in a vanilla body scrub. This is especially true if the grains of salt are quite fine. The finer the grains, the more evenly they will buff the skin and leave it looking healthy, fresh, and glowing. When choosing a vanilla body scrub, it is also important to consider the size of the salt or sugar grains in the product. Scrubs made with large grains of salt or sugar can actually create micro-tears in the skin, which can cause to to become irritated.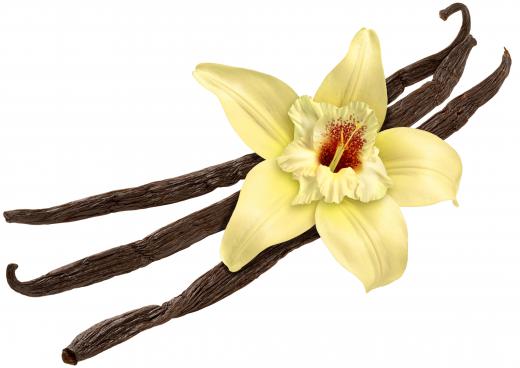 Another key factor is the type of vanilla ingredient that is used in the vanilla body scrub. In general, it is best to avoid products that have "fragrance" listed as one of the ingredients. This goes for vanilla body scrub as well. The reason for this is that "fragrance" is almost always a non-organic product that is added even if it will not benefit the skin. The best kinds of vanilla body scrub are those that are scented with essential oil that has been extracted from the vanilla bean.
Finally, it is also important to consider cost. Vanilla body scrub can cost anywhere between $5 USD (US Dollars) and $50 USD. The ingredients in the more expensive options are often of higher quality, but the less expensive options often smell great and yield similar results.
AS FEATURED ON:
AS FEATURED ON:






By: bit24

For sensitive skin, vanilla body scrubs made with sugar might be the best choice.

By: rimglow

Essential oils that have been extracted from a vanilla bean can be mixed with body scrubs.