How Do I Choose the Best Urgent Care Clinic?
Choosing the best urgent care clinic depends on the options available in a specific area. Most of the time, a person seeking urgent care is not in a position to travel far away in order to get medical attention. Things to keep in mind when choosing an urgent care clinic include insurance accepted, average wait time, and reputation. Depending on the way the clinic is set up, cost may be a consideration as well. Certain clinics cannot treat specific health problems due to the need for special equipment, so it is important to make sure that the problem can be addressed by the clinic prior to arrival.
One important determination to make when choosing an urgent care clinic is whether the clinic is affordable. This is not an issue in some areas, but in others it may be necessary to make sure that the clinic accepts your insurance. The cost of a copay can be variable as well.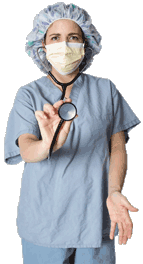 Time is a major consideration when choosing a clinic because these facilities often operate on a first-come, first-served principle. In some newer clinics, reservations can be made online or wait times can be viewed before heading to the clinic. This helps to avoid long waits and may make choosing a clinic location much easier. Even when this information is not available, clinics often develop a reputation for being crowded that can be found in reviews.
The reputation of both the clinic and its staff say a lot about the quality of the medical care provided by the facility. Clinics of this type must provide good customer service in order to be successful, but not all doctors can live up to this expectation. Making sure the clinic is pleasant is often important to people with minor complaints who do not necessarily need treatment.
No matter what, it is essential to make sure that the people who work in the clinic are qualified to practice medicine. Going to a clinic of this type is the same as going to any doctor and safety is paramount. Some clinics are run almost entirely by nurse practitioners, which can be acceptable for some problems but not for more serious health issues.
An urgent care clinic is not an emergency room, and if the problem is known to require emergency treatment, the best course of action is to go directly to a hospital. Even so, not all urgent care clinics are equipped to deal with all problems. Urgent cast removal, for example, is not something all clinics can provide. In most cases, calling the urgent care clinic beforehand and inquiring about whether a problem is appropriate for the facility is the best way to choose a clinic.
AS FEATURED ON:
AS FEATURED ON:






Doctor