How Do I Choose the Best Toddler Pajamas?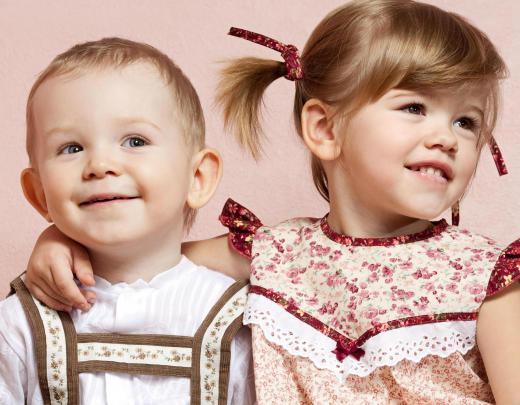 Choosing the right pajamas for kids can be a little difficult and confusing. Ultimately, your final choice will depend on a number of things, including the weather and style of the pajamas. Toddler pajamas should also be easy to get on and off, and they should be easy to wash. Letting your child try on children's pajamas can also ensure that they fit well and are comfortable.
During the summer months, you will want to choose toddler pajamas that will help keep your child cool. Pajamas made from lightweight cotton are usually good for this. In the winter, on the other hand, you will want to choose pajamas that will keep your child warm. Heavy fabrics, like fleece or flannel, are usually warmer.
You should also consider which style of toddler pajamas you want your child to wear. One-piece children's pajamas are popular, and these usually come with feet, or socks, attached. These can help keep your toddler warm, but they should have rubber soles to help prevent dangerous falls.
Two-piece toddler pajamas are another option. These consist of a top and a bottom. Generally, two-piece pajamas are easier to get on and off.
Since toddlers are usually potty training, toddler pajamas should be easy to get on and off. Your child should be able to do this task himself, if necessary. This will help minimize accidents in the middle of the night and in the morning when your child needs to use the toilet.
Some toddlers may not be completely ready to use a regular toilet, and accidents may occur. They may also get food and dirt on their pajamas. When choosing toddler pajamas, it is important to choose a set that is easy to clean. Pajamas that need to be hand washed, or other special care, should be avoided. Machine-washable pajamas are typically preferred by most parents.
Comfort and fit also are important when choosing toddler pajamas. They should be a little loose and not binding around the waist. Some parents may choose pajamas that are one size too big, so their child will grow into them. Other parents choose pajamas with adjustable waistbands. It is usually best to have your child try pajamas on before you make a final purchase.
The design and color of the pajamas is particularly important. Unlike infant pajamas, it is usually best if the child helps to choose his toddler pajamas. Let your child choose a color or design that he enjoys. Both boy's pajamas and girl's pajamas come in a variety of colors and designs.


Toddlers.