How do I Choose the Best Spring Workout?
The arrival of spring brings rising temperatures and longer days. Many people use this time of year to start a new workout program. Choosing the best spring workout program requires an analysis of your personal workout goals. Once you know what you are trying to achieve with your spring workout, you can better select the right plan to make it happen.
Many people begin their spring workout with the goal of losing winter or holiday weight. Other people may want to gain strength or endurance or increase their overall fitness level. Different workouts are appropriate for each of these objectives.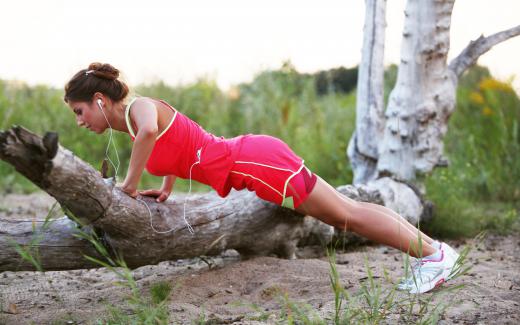 Those looking to lose weight will typically want to have a mix of cardio and weight training, but will be more focused on the cardio portion. Boot camps are a good way to combine cardio and weight training. The camps tend to be held outside, which makes them popular for spring and summer workouts. Boot camp workouts may be intensive, but they can typically be tailored for those who need to start slowly. Make sure the instructor of the boot camp has proper credentials to ensure that the workout is balanced and appropriate for all participants.
If you want to improve endurance or increase your overall fitness level, training for an event can help you reach your goals. Many races and bike rides are held in the spring and summer, so signing up for one can help motivate you to stick to your spring workout program. For those who have participated in events in the past, training for a specific time goal will help intensify the workout. Many locations have clubs or training groups that can add a social element to the spring workout program.
Training to increase strength is typically accomplished by concentrating on weight training, as opposed to cardio. While cardio is still a part of the spring workout program, weights are the best way to increase muscle. Joining a gym or working with a personal trainer are two common ways to maximize a strength training program.
A spring workout program can be a good way to get in better shape before summer. To increase your motivation and stay focused on your program, you may want to give yourself specific targets and benchmarks to hit. Rewarding yourself with things like new workout clothes, a day at a spa, or a summer holiday can provide additional drive to reach your goals.
AS FEATURED ON:
AS FEATURED ON:






By: Sergejs Rahunoks

Many people enjoy working out outdoors during the spring.

By: Syda Productions

Long-sleeved shirts and long pants can be worn during workouts when the spring weather is cool.

By: Tijana

Working out with weights helps to tone the body in time for summer.

By: Wisky

Yoga helps to tone and elongate the muscles.

By: Diego Barbieri

Riding a bike can be a great way to get a spring workout.