How Do I Choose the Best Sport Blazer?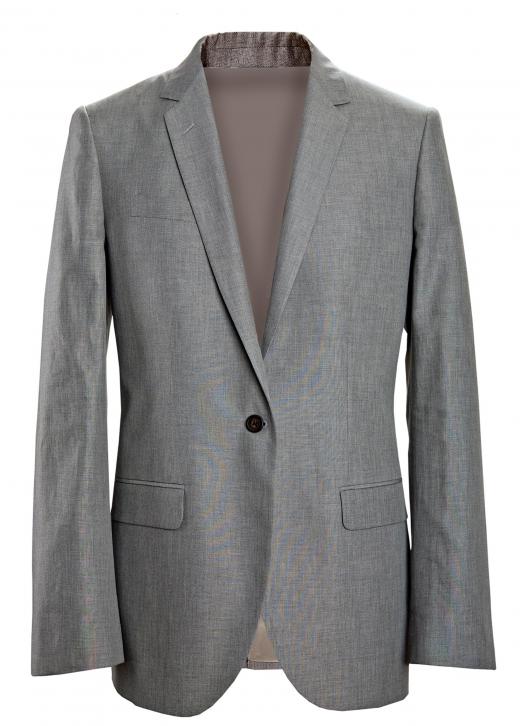 Timeless and refined, the sport blazer is an essential component of a man's wardrobe. The sport blazer can make a great impression on a business casual day at work or when showing up for a first date. A man's first blazer should be fairly conservative in style and color and be appropriate for the workplace and other semi-formal settings. Additional sport jackets can be more daring and fashion forward. Always try to find a blazer that fits well and consider having alterations done to get just the right fit.
The sport blazer is one of the most versatile items in a man's closet and is available in a variety of colors and materials. The right blazer can go from work to dinner to a club and look good doing it. Jackets are sold in a wide range of chest sizes, although the greatest selection in the United States will range in size from 38 to 52. They also vary by length, so it is important to try on short, regular and long sizes after determining the right chest size. Always try a jacket on before buying; sizing can be inconsistent between brands and clothing lines.
Men should consider starting with a single-breasted, two-button navy blazer. This jacket can be worn with darker slacks for regular work attire or with khakis for a more casual-Friday look. It can also be paired with jeans and a clean white shirt for a classic look on a date or a night out on the town. When buying a second blazer for work, some men choose a charcoal or other gray color that can complement the same shirts and pants they wear with their suits. In a pinch, a man can wear a suit jacket with pants other than the suit pants for a different look.
If work is not a consideration, then the customer has more flexibility in choosing a sport blazer that will be fun and fashionable for casual settings. Black, corduroy and denim jackets are popular choices for younger men. These styles work well with jeans or slacks and a casual shirt such as a polo-style shirt or T-shirt. Having several shirts in different colors will allow a man to wear the jacket with a fresh look each time.
Some men may have difficulty finding a sport blazer that fits properly, particularly if they have an unusual body type. Dedicated menswear and big-and-tall stores generally have a wider selection of sizes than a regular department store. Online stores are another popular option for men who may not have a good selection convenient to them, although online customers must often pay to return items that don't fit properly. A final option is to have a blazer tailor-made. This is generally the most expensive option but can provide the best fit.


By: Alexandra Karamyshev

A sport blazer is a staple in many men's wardrobes.