How do I Choose the Best Skincare Mask?
Choosing the best skincare mask is a matter of finding a product with the right kind of ingredients for one's personal skin issues. Skin can be broadly categorized into a few types: oily, sensitive, dry, and combination. Combination skin is skin that is sometimes oily and sometimes dry and may have patches of both. For each skin type there are masks to help improve the skin's health and beauty.
A skincare mask for oily skin is likely to help draw excess oil out of the skin and keep the skin from becoming overly oily again for a day or so. Ingredients that are often included in these kinds of masks include tea tree oil, seaweed, salicylic acid, and benzoyl peroxide. These kinds of skincare masks are also often used by people who have blemished skin, especially if their skin is blemished and oily. A skincare mask formulated specifically for people with acne is likely to include benzoyl peroxide or salicylic acid.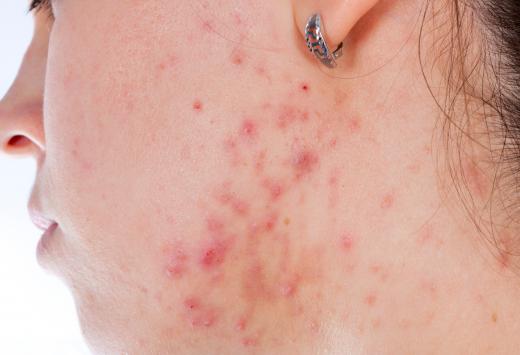 Sensitive skin can be treated with a skincare mask that is made with gentle ingredients that cleanse, purify, and moisturize the skin without causing irritation. One of the most common ingredients in masks for people with sensitive skin is aloe. Cucumber masks can also be beneficial for people with sensitive skin.
The best type of skincare mask for someone with dry skin is a moisturizing mask. A moisturizing mask may be made with Vitamin E, olive oil, or jojoba oil. This kind of mask gentle cleanses the skin but also delivers a good dosage of moisture to dry patches.
People with combination skin may choose to use a clay-based mask. Clay has a number of benefits for all types of skin and a clay skincare mask is likely to help people who have patches of skin are is oily, dry, or sensitive. Clay can also help to reduce blemished because it helps to clear out the pores.
Finally, there are also masks designed specifically for people with aging skin. A whitening mask, for example, helps to reduce age spots. This kind of skincare mask can also be used to reduce variations in skin tone and fade scars. A collagen skincare mask helps to reduce the visibility of fine lines and wrinkles on the face. There are also masks with other ingredients that are formulated to help refine wrinkles and lift sagging skin, thereby reducing the signs of aging.
AS FEATURED ON:
AS FEATURED ON:






By: badmanproduction

A person looking to treat acne should find a skincare mask that contains salicylic acid or benzoyl peroxide.

By: Nitr

Natural ingredients like honey are useful for skin that needs moisturizing.

By: Voyagerix

Those with oily skin should choose a mask that draws oil out of the pores.

By: food pictures studio

Cucumber masks are good for people with sensitive skin.

By: LanaK

Clay masks purify the skin and pull dirt and oil from pores.