How Do I Choose the Best Shampoo for Frizzy Hair?
Frizzy hair is an ailment caused by several issues that is common in dry or over-treated locks, and it is particularly a prevalent complaint in those who have curly strands. Minimizing the use of heated tools and other potentially damaging hair treatments can help to reduce damage to the hair and thereby reduce frizz. In order to help to combat frizz, certain beauty products should be used on a daily basis, including shampoo for frizzy hair. The best shampoo that you choose depends on your hair type, as well as the particular features for which you are looking. A special conditioner that reduces frizz is also an important complement to this type of shampoo, or else the product might not be as effective.
Causes of frizzy hair vary, but some of the most common include styling habits and weather elements. The use of heated tools, such as blow dryers and flat irons, can dry out the hair shaft overtime, causing your strands to frizz. A lack of humidity and dry weather conditions during winter months can also cause frizzy hair. If you have extremely dry skin, then your hair might experience significant dryness since there is a lack of oil in the scalp. Curly and wavy hair can also be dry and frizzy because natural oils have difficulty making their way to the ends of strands.
One of the first considerations in choosing a shampoo for frizzy hair is your particular needs. If you have dry and damaged hair, you might consider purchasing an ultra-moisturizing version that is intended for use with over-treated locks. Shampoos specifically designed for curly strands tend to relax waves and deposit enough moisture in the hair so that you experience less frizz. If you straighten your strands on a regular basis, you might consider a shampoo for frizzy hair that is designed to smooth the shaft. Traditional versions of frizzy hair shampoos are chemical-based, while there are more natural types also available on the market that utilize proteins and amino acids to help to replenish moisture.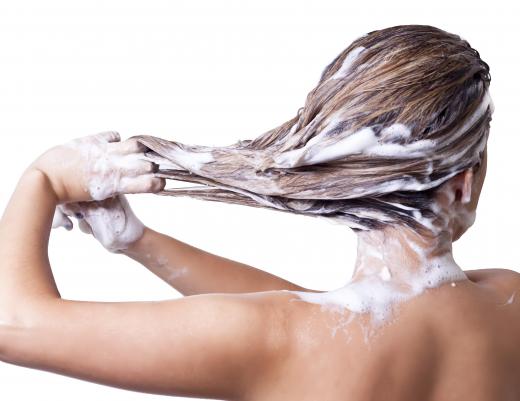 A shampoo for frizzy hair might not be effective if you do not use complementing products, such as anti-frizz conditioners. If your hair is extremely dry and frizzy, you might also consider shampooing every other day and using a leave-in conditioner. It is also helpful to reduce the amount of heated styling tools that you use as a method of decreasing frizz; instead you might consider using such appliances every other day and touching up your roots with a dry shampoo to refresh your look.
AS FEATURED ON:
AS FEATURED ON:






By: Dessie

Using a moisturizing shampoo and conditioner can help smooth the hair.

By: esp2k

Hair type needs to be taken into consideration when choosing shampoos for frizzy hair.

By: Scott Griessel

People with extremely dry hair may benefit from shampooing every other day.