How Do I Choose the Best Salon Reception Desk?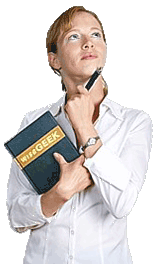 When choosing a salon reception desk, select a color and style to complement the decor of your salon. Look for something that offers optimal storage space for important documents, as well as a pull-out drawer for a computer keyboard. Most salon reception desks are used for business transactions, therefore you may prefer one with a secure cash drawer. It may also be a good idea to take measurements of the allotted space you have to work with. Your salon equipment may require minimal assembly, or you may prefer to buy a pre-assembled piece.
A salon reception desk can be stylish as well as functional. Choose a material such as laminate or wood, that closely matches the existing furniture in the reception area. For something easy to maintain, laminate or glass may be preferable over wood. You also may want to choose a material that does not easily show fingerprints and smudges. If you choose a salon desk with glass parts, you should make sure it's made with tempered safety glass to prevent breakage.
Security is often a top priority when selecting a salon reception desk, so consider one that has locking drawers. This will prevent employees or unauthorized individuals from gaining access to confidential papers or cash and checks. In addition, you should choose a salon reception desk that includes locking file cabinets.
If you have ample space and a large reception area, you might want to choose an L-shaped salon reception desk. This contoured receptionist desk is typically larger than most and may accommodate more of your essential supplies. You'll probably be able to store a telephone system, computer, monitor and keyboard, as well as other miscellaneous accessories. Compare measurements of the reception area to dimensions of the desk, and allow ample room to avoid a cluttered appearance. There should be adequate space between the desk and reception area chairs, so clients may move about freely and comfortably.
Conversely, if you have a modest salon with a small reception area, you may choose a basic salon reception desk. The basic models generally feature one or two small shelves and a single drawer. Be sure the work area has room for writing, as well as a space for the cash register. Some of the smaller desks have just enough room for placement of a laptop computer and small printer. Also, be sure the desk has ample display space for necessary items, such as brochures and business cards.
When choosing a salon reception desk, buy from a reliable company or manufacturer. To ensure quality service, be certain the company offers free telephone support and customer service. Some companies offer discounts, while others offer assembly service or free shipping and installation. Even if there is a cost involved, having your salon equipment delivered and assembled for a nominal fee may save you time and effort.
Woman holding a book