How do I Choose the Best Residential Fire Alarm?
There are several important factors to consider when choosing a residential fire alarm. As smoke is detectable before an actual heat-producing fire begins, a fire alarm system should contain a smoke detector component with an audible warning system that gives the earliest possible warning that a fire has started. The bells or horn should be checked to ensure that all members of the household, especially those who may be hearing impaired, can hear the sound well enough to awaken if a fire should start during sleeping hours. A residential fire alarm system should include an automatic notification system so that emergency services can be notified quickly. The residential fire alarm system should also have passed the Underwriters' Laboratories (UL) or Factory Mutual (FM) tests.
A residential fire alarm system is usually part of a home security system that also includes burglary protection in the form of motion detectors and glass-break warning systems. The fire alarm component of the system typically includes both a smoke detector and heat detector attached to a control panel that sounds an audible alarm and automatically summons emergency services. A residential smoke alarm differs from a fire alarm system in that it is a system of one or more individual units installed to detect smoke only.
Non-fatal fires usually begin with cooking fires in the kitchen and are quickly extinguished by the resident. Most fatal fires are started by cigarettes and begin either in the bedroom or common living area during night-time sleeping hours. For this reason, the National Fire Protection Agency recommends that any smoke or fire alarm system contains both an ionization and photoelectric detection system. An ionization alarm reacts more quickly to open flames, while a photoelectric smoke alarm system reacts more quickly to smoldering fires, which are typical of the types of fires that cause the most fatalities. A residential fire alarm system that contains both types of technologies provides the best protection against the two types of home fires.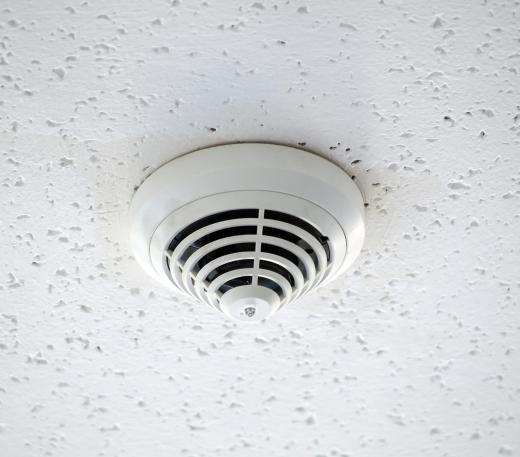 As half of all home fire fatalities involve young children or adults more than 65 years of age, a residential fire alarm system should make provisions for family members with special needs. One of the primary advantages of a residential fire alarm system is the option to place detectors in additional locations as needed and install more bells, flashing lights, or radio-controlled receivers. A radio-controlled receiver is a mobile unit that can be located in a bedroom to notify a sleeping family member or given to a neighbor so the home can be monitored when family members are traveling. Radio receivers may also be equipped with a manually activated emergency medical button that can be used by family members with special needs.
Regardless of the type of residential fire alarm system chosen, it needs to be installed according to certain guidelines to work correctly. There should be at least one smoke or fire detector installed on every level of the home high on a wall or at ceiling level. Additional units should be installed in bedrooms, especially if there are smokers in the home or large appliances, like air conditioning units or televisions, in the bedroom. Individual units should be connected so that an alarm at one detector activates the rest of the units in the system and the alarm can be heard everywhere in the home. Finally, all family members should agree on a plan of escape in case of emergency.
AS FEATURED ON:
AS FEATURED ON:






By: Friday

A residential fire alarm can prevent home damage and fatalities.

By: shadowchaser

A fire alarm system should include a smoke detector.

By: Serenethos

Battery-powered smoke detectors can be a more economically choice and are usually powered by a 9 volt battery.