How do I Choose the Best Real Estate School?
There are four items to consider when choosing the best real estate school: hands-on training, software, admissions requirements, and faculty. Real estate school can be part of a larger community college or operate as an independent school. The best real estate schools offer work placements and internship opportunities. These programs allow students to gain valuable insight into the real estate industry and how it all works.
There are three different career options available through a real estate school: agent, broker, and real estate office administrator. Although the roles are slightly different, the primary focus is to assist clients who want to buy and sell property. Some agents and brokers specialize in a specific type of property, such as condominiums or commercial property. This selection is independent of the training, and a business decision.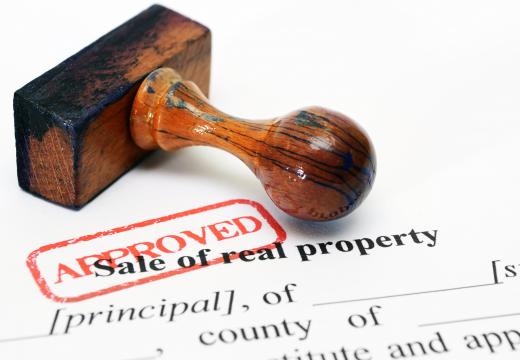 Selecting the best school should be based on your own goals, achievements, and skill levels. An honest review of your high school marks, level of effort, and dedication is a strong indicator to help you decide where you are most likely to experience success. Try to select a school where you will be both challenged and successful.
Hands-on training includes job shadowing a real estate agent or broker through a sales and/or purchase transaction. There is a significant amount of paperwork and effort involved in this process. This type of training, together with classroom lectures, is the most efficient way to learn about real estate.
The best real estate schools should have a wide range of software programs available for student use. This includes sales management, project management, accounting, and customer relationship management software. Check the average class size to ensure you will have ample opportunity to use these programs. Time is required to learn how to use them efficiently.
In order to qualify for admission to real estate school, you must have graduated from high school. The vast majority of candidates have at least three years' experience working after graduating from high school. Work experience can be in a wide range of positions, but sales experience is definitely the most helpful and relevant.
While the admissions requirements may appear low, the level of effort and skill required to complete this program of study is quite high. It is important to remember that the vast majority of real estate professionals are self-employed. Failure to learn the skills taught in this type of school will have a negative impact on your income.
Most real estate schools provide the biographies of their faculty or instructors on their website. The information listed typically includes the academic credentials, work experience, special training, and any awards they have received. Work experience is more valuable than academic credentials in this type of school. Look for instructors who have worked in the industry, as they have valuable experience and lessons that you can learn from.
AS FEATURED ON:
AS FEATURED ON:






By: alexskopje

Real estate agents must pass exams showing they understand the technical, ethical and legal aspects of real estate.