How do I Choose the Best Professional Makeup Brush?
The tools that are chosen for any project will ultimately affect the project's outcome, and makeup brushes are no exception. As a general rule, the makeup applicators that come with cosmetics are not usually considered professional makeup tools, and don't allow optimal control over makeup application. The key to choosing the best professional makeup brush depends largely on what the brush is for; whether it's a blush brush, eyebrow comb, or lip liner.
One of the most important priorities to keep in mind when searching for the right professional makeup brush is the idea of quality versus quantity. For example, a relatively inexpensive cosmetic kit featuring dozens of different makeup brushes may be less useful than a few select brushes that are of high quality. In fact, an adequate professional makeup brush kit could consist of as little as five essential brushes: a brow and lash comb, a blush brush, an eyeshadow brush, a lip liner brush, and a blemish brush.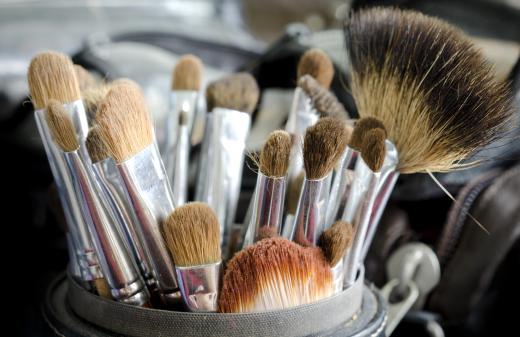 When choosing between one professional makeup brush and another, be sure to note the condition of the bristles. The better professional makeup brushes will have bristles that are thin, soft, and uniform, laying neatly together and cut at an angle. Brushes with bristles that are coarse and fan outward like a broom are better reserved for children's paint sets than professional makeup palettes. If you periodically leave your makeup brushes to soak in a cleaning solution, choose brushes with plastic handles rather than wooden ones, which can become damaged when soaked.
The best qualities to look for in a blemish brush are short, thin bristles that are cut bluntly at the end, which allows the concealer to be blended using a light patting motion. When it comes to a lip liner brush, look for one with thin bristles cut to a point at the end, allowing for pencil-thin precision. While sponge-tipped tools can sometimes help with blending concealer, they should be avoided as tools for applying eye makeup and lipstick. A brush that is roughly the same circumference of a quarter works best for blending blush over the apples of the cheeks, while the biggest brush possible is best for sweeping a light layer of loose powder over the face to set the look.
AS FEATURED ON:
AS FEATURED ON:






By: sirikorn_t

The condition of a brush's bristles should be considered when purchasing a professional makeup brush.

By: Andriy Petrenko

A soft filler eyebrow brush is a professional makeup kit essential.

By: Chris Tefme

A brush that is roughly the same circumference of a quarter works best for blending blush over the cheeks.