How do I Choose the Best Prenatal Multivitamin?
You should consult your doctor or midwife when choosing the best prenatal multivitamin if you have any health problems or concerns. Otherwise, any type that is sold on the market is considered safe for most pregnant and lactating women, so you may choose one based on ease of taking it, price, and type. For instance, if you have trouble taking pills, you may choose a prenatal liquid vitamin.
There are certain nutrients that pregnant women need more of than non-pregnant women, so you should be sure that the prenatal multivitamin you choose is actually made for use during pregnancy. You will need to consume more folic acid than usual, along with more calcium and iron. If you have certain health conditions, be sure to check with your doctor before choosing a vitamin, because there may be other nutrients you will need more or less of due to an illness or deficiency.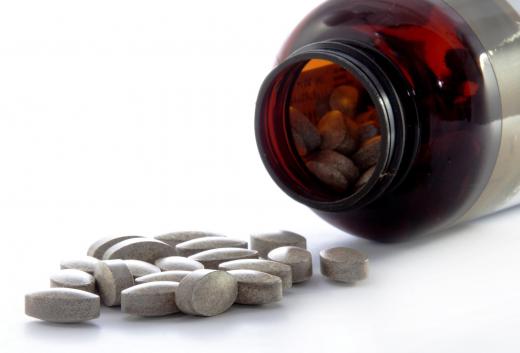 Assuming you are free to choose the prenatal multivitamin you want, there are several factors you may consider. Whole food vitamins are generally the best, as they are derived from food sources rather than synthetic ones. Those made from organic vegetables are even better. That said, they are also pricier than conventional pharmacy varieties, so there is no harm in taking any vitamin that you can afford. The most important thing is to remember to take it every day.
If you have trouble swallowing large pills, as most prenatal vitamins are rather large in size, you may find a liquid variety to be more suitable for you. Just remember that these are not available everywhere and may cost slightly more than other types. They also usually require refrigeration and usually only come in a one month's supply per bottle because opened liquid vitamin can spoil with time.
You may need to try more then one prenatal multivitamin to find the right one, especially since prenatal vitamins are notorious for causing an increase in morning sickness symptoms. If your vitamin makes you sick, you will be far less likely to take it regularly. Therefore, if you can't stomach the option you chose, switch to another until you find one that doesn't upset your stomach. You can switch back later once morning sickness has subsided if you wish to do so.
In most cases, any vitamin listed as safe for pregnant women should be suitable. That said, you should always check with your doctor or pharmacist before taking any vitamin or supplement if you have a medical condition or are taking a prescription or over the counter medication. Consult a health care professional if you are taking any other supplements, as vitamin overdoses do occur, although they are uncommon.
AS FEATURED ON:
AS FEATURED ON:






By: compuinfoto

Multivitamin supplements.

By: Dmitriy Melnikov

A doctor might offer suggestions for prenatal multivitamins.

By: Igor Mojzes

Prenatal vitamins are notorious for causing an increase in morning sickness symptoms, so shopping around for the right vitamin is key.

By: Rohit Seth

Folic acid, iron and the omega-3 fatty acid DHA are commonly included in prenatal vitamins.

By: Langstrup

Prenatal vitamins may cause constipation and indigestion in some women.