How Do I Choose the Best plus Size Strapless Bra?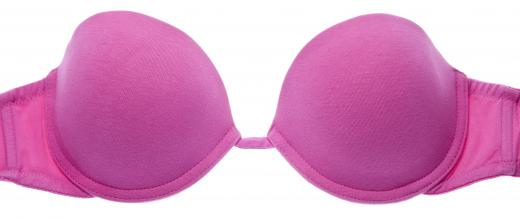 Your search for a plus size strapless bra should always begin with a professional bra measurement performed by an experienced fitter who works for a reputable retailer. After being informed of your correct measurements, you should try on several strapless bras until you find one that is both comfortable and appropriately supportive. In many cases, you will be wearing a strapless bra to go with a particular "special occasion" garment. If this is the case, you should bring the garment with you when you shop for a plus size strapless bra in order to ensure that the cut and color of the bra is suitable for the clothing you plan to wear.
Unfortunately, many women do not know their actual bra size, and commonly choose sizes that are incorrect. This results in discomfort for the woman and can mean that her clothing does not fit properly. In some cases, a badly fitting bra can also make a woman look heavier than she actually is. By working with a professional bra fitter, a woman can avoid these perils when choosing a plus size strapless bra.
In some areas, specialty lingerie stores still exist and in many cases there is at least one employee on staff who specializes in measuring women for bras. You may need to call ahead to make an appointment with the bra fitter. Bring the outfit or outfits that you plan to wear with the strapless bra that you purchase. Once you have the correct bra size, you should work with the fitter to find several strapless options in the size and color that you need. You may also want to schedule your fitting at a store that specializes in clothing or lingerie for plus size women. You may find that there are size differences between different brands or even within a brand that has several different style of strapless bra, so be prepared to go up or down a size or two while trying on bras.
When trying on bras, make sure that the cup holds the entire breast and that it is comfortable for you to wear. If a plus size strapless bra pinches or pokes you with its underwire, choose a different bra. You should also make sure that the bra you wear cannot be easily seen under your clothes. White bras are generally a poor choice because they can be seen through many fabrics, and black bras may be conspicuous under anything but black fabric. For many women, choosing a bra that is similar in color to her own natural skin tone is her best bet, as it allows her to wear her new plus size strapless bra with several different garments, regardless of their color.


By: Brooke Becker

A plus size strapless bra.