How Do I Choose the Best plus Size Bra?
When buying a plus size bra, don't get caught up in the sizing numbers and letters on the box or package. If you've been professionally measured for bra fit, then it can be beneficial to look for that particular size of bra before trying them on. Otherwise, grab a few different bra sizes and try these on to start finding the best fit for you. The best plus size bra for your body is going to offer smooth, full coverage without slipping, binding or bunching. Look for thick, adjustable straps and at least three rows of fasteners in the back.
Trying on bras with the back fasteners on the middle row can be a good idea. This way, if the elastic material in the back section of the plus size bra you end up choosing stretches a little after time, it's possible to still get a good fit by using the tightest row. If you start out using that row from the beginning and the bra looses some elasticity later on, then you won't have another option. Thick straps are a must to look for when shopping for plus size bras, as they help add support and can create comfort on the shoulders. Bra straps that are too thin are likely to dig into the skin and be uncomfortable.
If the back section of a bra rides up, this is a sign that the band size is too big. Band size is typically expressed in numbers placed with the cup sizing letter, so if the back of a plus size bra you're considering is riding up, go down in the size number until you find the best fit. When the back of a bra rides up, this causes the front to sag so the whole point of buying a supportive undergarment becomes lost.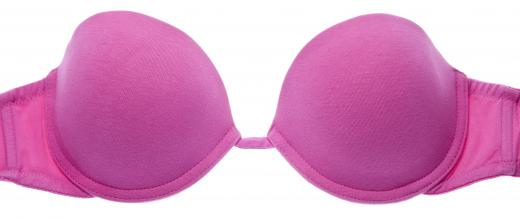 The cups of the bra you choose should fit comfortably. If there are any loose bunches or ripples of fabric on the cup sections, the plus size bra cups are likely to be too big. It's then advisable to go lower in the letter signifying cup size when trying on bras to find the right one. Going from a DD to a single D can often solve the problem since the fit difference between the two is usually minimal. If instead, bra cups don't cover as much in front as they should, or dig in to bind the skin for an overflowing look, it's best to try larger cup sizes for a better fit.
AS FEATURED ON:
AS FEATURED ON:






By: Karen Roach

A plus size sports bra.

By: Brooke Becker

A plus size strapless bra.