How Do I Choose the Best plus Size Prom Dress?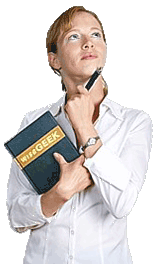 Choosing a plus size prom dress is very similar to choosing any size prom dress. You want a dress that is going to flatter your curves, hide your flaws, and, for at least that one special night, make you feel like a beautiful fairy princess. Fewer plus sized prom dresses than regular sized prom dresses are manufactured; therefore, it is important that you begin shopping for yours early in the game.
Take a few minutes to think about what you want in a plus size prom dress. If friends frequently comment on your beautiful blue eyes, you might want a blue prom dress to show them off. Your long, flaming red locks might look great in a stunning green dress. Spending time now jotting down the things that are important to you in a plus size prom dress will save lots of time once the dress hunt begins.
Evaluate your body shape. If you have heavy hips, consider buying a full ball gown style prom dress. This style places the emphasis on your small waist, while camouflaging your hips. A full ball gown's bottom half can be made of beautiful layers of netting that rest on one another. It can also be made with an inserted skirt hoop that holds the bottom out in a beautiful bell. A large bust looks great in a halter style dress and gives off an air of elegance.
An apple shape does well in an empire waistline or A-Line cut. Each of these styles moves viewers' eyes to just under your bust line and allows excess fabric to flow freely downward over your stomach, instead of clinging to it. The empire and A-Line cut can be successful in either a floor length or short prom gown. Be sure the size is right for you, as too small a dress in this cut will cling to your stomach and rear.
Dark colors and shades are generally more flattering to the plus size woman than pastels. You do not need to choose black or brown, unless that is what you want to wear, but in choosing your greens, blues, or rusts, stick with the darker shades. If your favorite color happens to be a bright yellow, or pastel pink, choose a dress in a dark shade and accentuate it with a shawl, hair ribbon, and shoes in your yellow or pink.
For concerns about heavy arms, you can wear above-the-elbow gloves, or wrap a see-through wrap around your shoulders. Some dresses come with semi sleeves that fall just off the shoulder and provide a flattering neckline, while hiding the tops of the arms. Wearing large, unique bangle bracelets on your wrist will also take attention away from your upper arms.
If your legs are one of your best features, shop for a plus size prom dress that falls just above the knee. This will draw attention to your legs and away from less flattering features. Keep the bottom of the dress full, so attention is not drawn away from the legs and up to your hips.
Large prints that swallow smaller women look great on larger women. Choose a print that is wild and crazy for your special night and remember to get some jewelry that accentuates the style. Whether you choose bold patterns or a solid-color dress, always choose non-clingy, soft, flowing fabrics for the best fit and look. A dress that is too large will look awkward, while a too-small dress will accentuate the fact you are a plus size. Once you find the perfect plus size prom dress in your color and style, add shoes to the total look and then relax and enjoy your special evening.


Woman holding a book