How Do I Choose the Best Ottoman?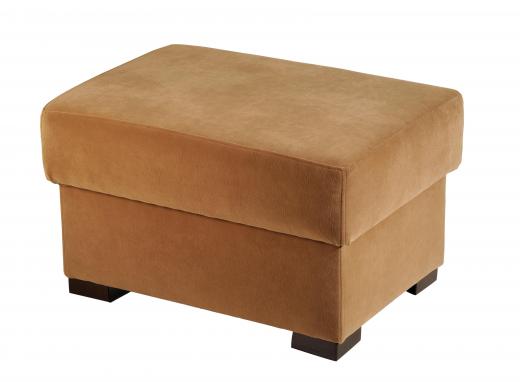 Designing a comfortable and livable space can be a fun project, but also a frustrating one. So many options exist for enhancing a space's comfort and usability that choosing the best pieces of furniture can become a daunting process. It is a good idea to start by choosing the larger pieces in a room and working down from there. Choosing an ottoman, therefore, may be easiest after other pieces of furniture already populate a room. This way, you can choose an ottoman that is the appropriate size, color, and shape to accommodate the remaining space in a room.
Consider carefully how you intend to use the ottoman. In some cases, this piece of furniture is used exclusively as a footrest, in which case a padded unit will be best. In other instances, the ottoman may be used as a coffee table, in which case a solid surface will work much better. It is possible to buy a unit that features a flip top; on one side of this top, the unit will be upholstered and padded, while on the other side, the top will be hard and flat. This allows you to use the footrest for comfort as well as functionality.
If you have pets or children, be sure to choose an ottoman that is easy to clean. Microfiber is a good choice because it will be resistant to staining and dirt build-up, but still very attractive. Leather is a durable and exceptionally attractive option, but it is also fairly expensive and can be susceptible to discoloration. This can add character if the leather is high-quality, but it can also lead to the ottoman looking shabby if the leather is not exceptionally high-quality. Other types of fabrics are also available, so do some research to find the options that are right for you.
The shape and size of the ottoman will generally depend on the shape and size of the room in which it will be placed. Try to choose a size that is not so large that walking space is totally eaten up, but not so small that the ottoman is not useful. Choose a shape based on other furnishings in the room; if you have a round carpet, for example, you can stay consistent by choosing a round footrest, or you may choose a rectangular one to provide a bit of contrast.


By: bagarol

Ottomans are large, padded stools covered in fabric, designed to relieve one's feet of pressure.