How do I Choose the Best Online Driver's Ed?
Finding the right online driver's ed class may seem daunting at first, but with a bit of planning, a person who wants to get his or her license can choose a good one. Along with thinking about whether this type of study will be effective, the prospective driver will need to consider the curriculum offered. Finding a program that is recognized by the local agency that administers driver's licenses is also essential.
Taking an online driver's ed class is a different way of learning than sitting down in a classroom. The fact that the class is scheduled at a set time means the students are required to focus on the materials at a certain time. While studying remotely does have the advantage of convenience, since students can work through the materials at a time that works with their schedule, it also requires a certain amount of discipline to stay focused on completing the program.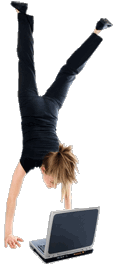 Before choosing an online driver's ed class, the prospective student should take a look at the curriculum the school is offering. The course should cover topics like the rules of the road, which includes the process of getting a license; demerit programs and license suspension. The proper use of safety restraint systems in the vehicle should also be covered, along with car insurance and any applicable bylaws in the jurisdiction. Other topics an online driver's ed class should include are the various road signs and signals the new driver will encounter on the road.
A person who chooses to take an online driver's ed course will also want to ensure that the curriculum includes instruction on the various components that make up a motor vehicle. A good quality driver education program will teach students about the parts of the vehicle and how they operate. Once the student is familiar with how the car works, they can move on to learn appropriate driving techniques. These include how to maintain control of the steering, braking, turning and parallel parking. Strategies for avoiding a collision and how to behave responsibly on the road should also be part of the curriculum.
When looking for an online driver's ed class, a student should also make sure the program they are considering is recognized by the local authority that issues driver's licenses. Before signing up for a program, it's a good idea to contact the agency responsible to ask whether the one under consideration is recognized. The licensing agency may also be able to provide a list of approved courses on request.
AS FEATURED ON:
AS FEATURED ON:






Woman doing a handstand with a computer