How do I Choose the Best Men's Running Shoes?
Choosing men's running shoes is a process that depends on a number of different factors that are specific to the individual. The best men's running shoes for a particular man may be completely different to another. Some of the things to consider when buying running shoes include whether the man has a neutral foot arch, which surfaces he usually runs on and what kind of running he performs. For this reason men's running shoes should usually bought from a specialized running shop as the attendants are more likely to recommend the correct shoe.
Running puts a lot of strain on the body — especially the knee joint — which is why running shoes are so important. There are three main types of structural shoe — stability, cushioned and motion control. Each is used for a certain type of biomechanics. For example, the cushioned running shoe is best for someone who has a high arch as it will help to increase motion of the foot. Motion control shoes are more commonly used for people who have flat feet as these shoes restrict the amount of pronation while running.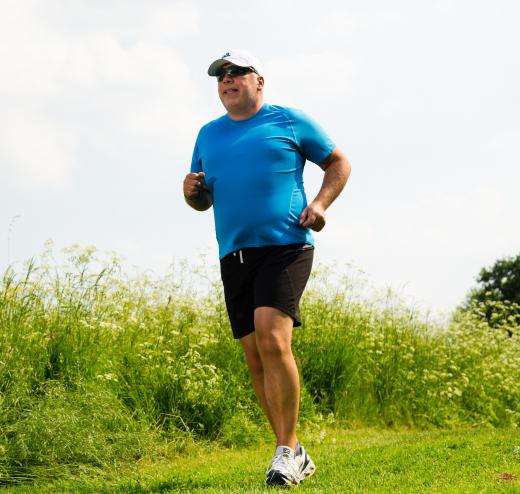 Another factor to consider is whether the runner lands with his or her heel or forefoot first. A runner who lands on the forefoot first before moving back to the heel will require extra cushioning in the forefoot. It is generally more common, however, for a runner to land with his or her heel first. In this case more padding on the heel is required in order to reduce the force transmitted through the leg with each step.
Aside from the three main categories there are also shoes made for specific types of running. For example, racing shoes don't provide much support but are lighter and hence usually better for racing. Trail shoes are designed to be used while running off road. If a runner runs mostly on roads or other hard surfaces then more cushioning will be required.
Some specialist running shops will provide a treadmill to test men's running shoes. This is a good chance to see how a shoe feels in a running situation. If there is a running shoe expert in the shop then he or she will also look at the runner's gait in order to decide whether the shoe is the correct type and fit. This is one of the benefits of buying men's running shoes from a specialist shop rather than a general store or over the internet.
AS FEATURED ON:
AS FEATURED ON:






By: Picture-Factory

Runners should select shoes that are designed to correct specific biomechanical problems.

By: Igor Yaruta

When choosing a running shoe, it is important to consider whether the sole is appropriate for the material on which you plan to run.