How Do I Choose the Best Men's Hair Removal Cream?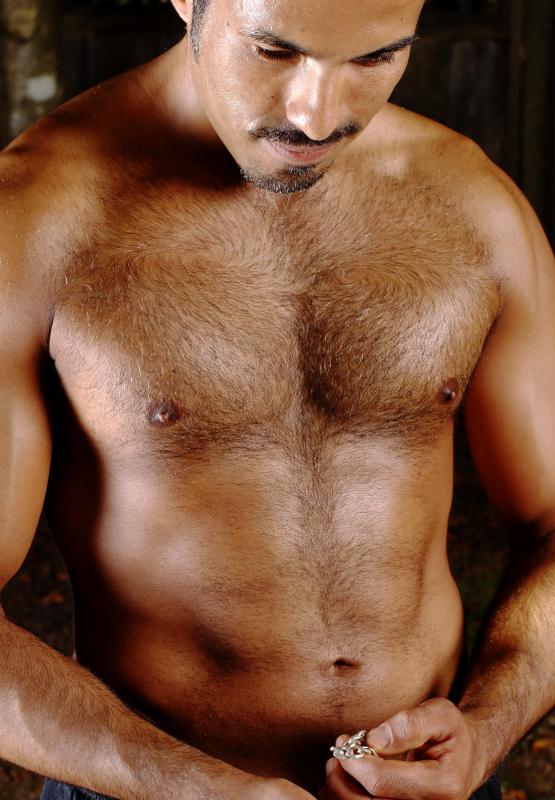 Choosing the best men's hair removal cream depends upon skin sensitivity, scent preferences, and which part of the body has unwanted hair. Men's hair removal cream is intended for use on the chest or back areas, and not intended for use in the sensitive areas of the face or under the arms. Using men's hair removal cream near the eyes for eyebrow removal can cause irritation and permanent tissue damage if not rinsed away immediately.
Men's hair removal cream contains chemicals that dissolve the hair at the root, however, hair starts growing again in about a week. Some people are sensitive to the strong odor that is present in a men's hair removal cream. For them, unscented hair removal creams are a good choice, however, most unscented men's hair removal creams still possess a slight smell. Inexpensive hair removal creams can be purchased at most drug stores, grocery stores and other retailers. The benefits of using a men's hair removal cream include the cost effectiveness and fast results.
Those with sensitive skin may not be able to tolerate the chemicals in men's hair removal cream because the product can sometimes cause skin irritation, redness, and burning. Prior to applying a hair removal product, a patch test should be done on a small area of the hand or wrist to make sure an allergic reaction does not occur. If a skin reaction does occur, it should be washed off immediately and the health care provider called. Most of the time, however, these products are well tolerated by most men, and can be an effective alternative to shaving certain areas of the body.
Hair removal products for both men and women usually contain the same or similar chemicals. The scents may be different, however, as may the packaging. Neither product should ever be used on broken or irritated skin, or skin where dermatological conditions are present. These conditions include acne, psoriasis, rashes, and wounds. Applying hair removal products on areas of broken or irritated skin can cause a worsening in the condition and may even cause permanent damage to the skin cells.
When male hair removal cream is not an option because of sensitive skin or an aversion to the smell, other options are available. These include shaving, waxing, and more permanent methods of hair removal such as electrolysis. Before considering permanent methods of hair removal, however, a health care provider should be consulted to determine if the process is suitable for the individual.
Hair removal creams should only be used on a man's chest or back.