How Do I Choose the Best Kitchen Hutch?
Various considerations can go into choosing the best kitchen hutch for your needs. Picking a material can help narrow down you choices, and many people choose to stick with materials that match other furniture and cabinetry in the room or the home. Knowing how much space you have available and how that dictates the size of the hutch can prevent you from buying a piece that will not fit the designated space. A particular hutch's storage features — drawers, cabinets and wine racks, among others — also can help you make a satisfying choice.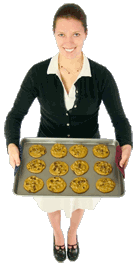 Many people start their search for the best kitchen hutch by narrowing their options to those that match the decor in the rest of the room. Many hutches are made of wood, but narrowing it down to this point still leaves you with a choice of light or dark wood in several varieties. If you cannot find the shade of wood you want, then you can opt for a kitchen hutch that is painted the color that works best for you. If you prefer a different material, then you may be able to find a metal hutch that adds a modern look to the room, with stainless steel often being the ultimate choice for a contemporary piece of furniture. When matching decor isn't that important to you, you may be able to find a unique hutch that stands out — rather than blending in — as a focal point and conversation starter in the room.
Another factor to think about while shopping for a kitchen hutch is size, because it needs to be able to fit in the space you have available. You may want to consider where you plan to put this piece of kitchen furniture, measure the area for length, width and height, and shop accordingly. If you doubt you can fit a kitchen hutch into the small space available, then a corner hutch might become an option. This type of furniture usually is just small enough to fit snugly in a corner, meaning it is not necessary for your kitchen to feature a lot of extra space to accommodate one. An additional detail to note is the height of the kitchen hutch you choose, because some feature extra space on top that may be wasted when paired with a low ceiling.
There are other factors to consider when choosing a kitchen hutch, such as the storage space it offers, because this often is the main point of this kind of furniture. You may find it beneficial to think about what you will store in the hutch and make sure the one you choose has enough space for those items. Some hutches also come with drawers that can be used for storing silverware and other kitchen utensils. Most hutches also come with a few cabinets, and some feature open shelves, while others have a few of both so you do not have to choose one or the other. In addition, some kitchen hutches feature a small wine rack and some hooks on which to hang cups, which could be useful.