How Do I Choose the Best Junior Secretary Jobs?
Junior secretary jobs are entry-level positions that can be a great way to gain work experience in a chosen field. When you are trying to choose the best junior secretary jobs, it is generally a good idea to begin by considering what field or industry you might like to work in. While they are plenty of general office environments that need secretaries, there are also a number of specialized fields -- legal work, for instance, or advertising -- that may match up well with your interests. You may also want to choose a junior secretary job where the advancement path is clear, or where there will be multiple opportunities for promotions.
Choosing a secretary job that teaches specialized skills will not only make you more desirable to other companies, but may lead to greater income down the road. Legal secretaries, for example, will learn how to work successfully in a law office and may be given additional responsibility, such as drafting letters. Medical secretaries might have a clear advancement path into billing or medical coding. Looking for junior secretary jobs in a field that interests you, which could be anything from working in a marketing department to helping out in a nonprofit organization, will also help to make everyday work more enjoyable.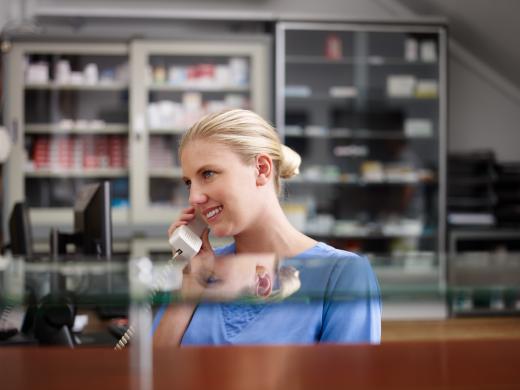 Even if you do not choose secretarial work in a particular field, it is still a good idea to look for junior secretary jobs that offer opportunities for advancement or promotion. Larger offices typically represent more of these opportunities, simply because of the volume of people that work there. Individuals who excel at junior secretary jobs can generally expect to move up to senior secretary, or even executive assistant or office manager positions, within a reasonable amount of time.
Other factors you might consider when choosing junior secretary jobs include the work environment and the hourly wage. For instance, some people thrive in a fast-paced, stressful work environment, while others do better in a quieter, slower workplace. It is always a good idea to visit the office and meet other employees before accepting a job. In addition, hourly wage is a big consideration; while junior secretary jobs will typically offer a fairly low hourly wage, as compared to other administrative jobs, it is still important that is a fair wage in regards to the amount of work that is expected, and in comparison to what similar companies are paying.
AS FEATURED ON:
AS FEATURED ON:






By: diego cervo

Choosing the best junior secretary job depends on the type of secretary career that the individual is interested in pursing.