How Do I Choose the Best Ionizing Hair Dryer?
The best ionizing hair dryer will be high wattage, lightweight, the correct size for your needs, and priced within your budget. Many different hair dryers are available in department stores, salons, and online in a wide range of prices. To find the best one, start by assessing your needs.
An ionizing hair dryer already has the advantage over other hairdryers of drying hair quickly and efficiently with a minimum of damage. These hair dryers blast the hair with negative ions, breaking down water molecules. The water molecules become small enough for your hair shaft to absorb. This makes hair glossy and reduces frizz. It is the ideal hairdryer if you blow dry your hair often.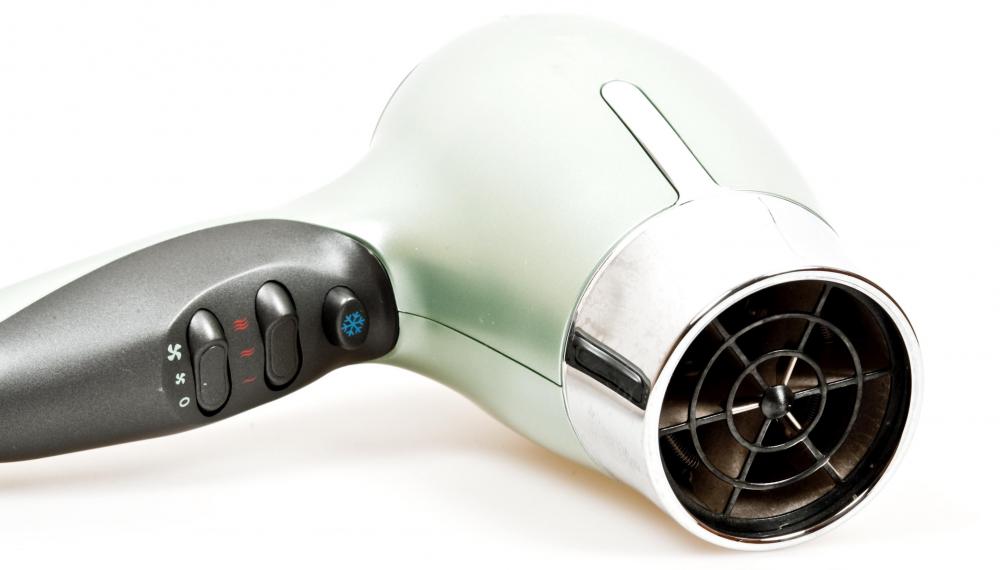 It is not uncommon for a professional stylist to spend three or four times the amount of money on an ionizing hair dryer as the average consumer would spend. Professionals rely on hairdryers as one of the tools of their trade. The dryers must be high performing and dependable. Although you may not want to spend as much as a professional would, remember that cheaper models are often lower quality and less effective.
Regardless of your price range, look for three key features: speed and temperature controls, a cool option, and attachments. The controls should have at least a high and low speed as well as three different heat levels. Most hairdryers have a "cool blast" button, but it must be depressed for the duration of time that the cool air option is desired. If you regularly use cool air, find a model with a switch, not a button. Attachments should include a diffuser and a concentrator so that you can create a variety of hairstyles.
The best hair dryers are also lightweight. If you spend more than ten minutes drying your hair, you probably already understand the need for a dryer that weighs as little as possible. There are professional grade ionizing hair dryers that weigh as little as 12 ounces. They come in standard and travel sizes.
A travel size ionizing hair dryer is not only good for individuals who are often away from home but also for those who have limited space. If you live in a dorm or small apartment or have a large family, a travel size hairdryer can save you storage space. A good model should have most of the features of a standard hairdryer, although you may have to settle for less wattage.
Wattage, or power, is what makes a hair dryer work quickly. The higher the wattage, the faster you can dry your hair. Professional stylists recommend 1,300 watts or more. Of course, with more power comes more expense, so choose the highest wattage ionizing hair dryer that you can afford.
Ionizing hair dryers allegedly work by breaking down water molecules.

The best ionizing hair dryer will be high wattage and lightweight.