How Do I Choose the Best Home Internet Business Ideas?
Home Internet business ideas are a great way to begin building a revenue stream on a part-time basis, possibly even eventually becoming the main source of income for the household. There are many different types of home business ideas that can be managed with the use of the Internet, making it somewhat difficult for interested parties to identify the home Internet business ideas that are likely to be the best option for their particular circumstances. When evaluating different ideas, it is important to keep factors such as the reasons for starting the business, business startup expenses, the skills and expertise that the owner can bring to the operation, and the potential for that particular type of small business to find a niche and be able to thrive.
Many people think in terms of considering different home Internet business ideas as a way to generate some income outside a full-time job. Others may go this route as a means of creating a work opportunity where none exists, or even to manage to make a living while dealing with an ongoing health issue. Knowing the reasons behind opening a business at home will make it much easier to focus attention on ideas that are likely to meet those specific needs.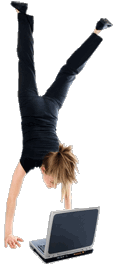 Another aspect to consider when evaluating different home Internet business ideas is which abilities and experience you can bring to the table in terms of owning a business of a certain type. The goal is to focus attention on home business opportunities that would make efficient use of your skills, education, work background, and even your social and business contacts. Take some time to make a list of your skills and other resources, then use that to narrow the scope of your search for the idea home business idea.
Many people have little or no money to invest in a home business up front. Identify how much you can spend in order to take advantage of various home Internet business ideas and identify opportunities that require an up-front investment of no more than that amount. Keep in mind there are some forms of home businesses that will require little more than a signup fee and the cost of setting up a web site.
Always evaluate different home Internet business ideas based on what you perceive as real potential for success. While there is always someone who has been successful with any given idea or opportunity, the trick is to determine if there is a good chance a given type of Internet based business will work for you. Be realistic and don't be swayed by ideas that seem to promise instant success, as they are likely to be scams. Just as when starting a brick and mortar business, it takes some time to establish an Internet business, build a clientele, and eventually begin to make money from the effort.
AS FEATURED ON:
AS FEATURED ON:






Woman doing a handstand with a computer