How do I Choose the Best Hearing Aid Supplier?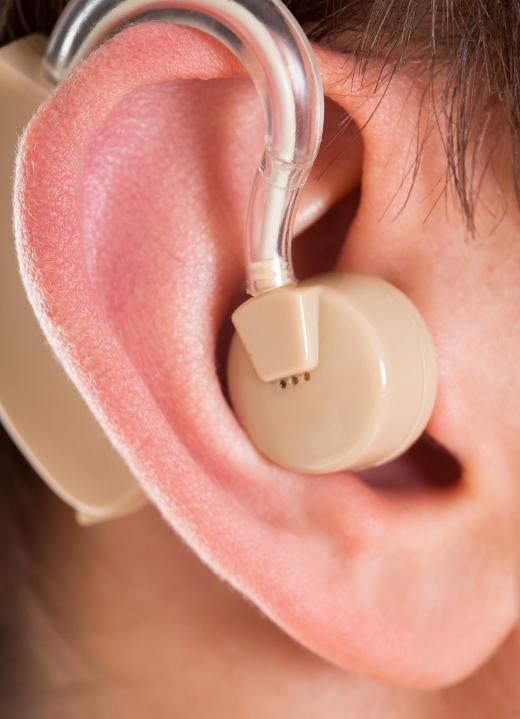 A hearing aid is a device, normally electronic, that amplifies sound. This device can be worn by those whose hearing is impaired to assist in their everyday communications. It is often placed within or behind the ear. To choose the best hearing aid supplier, it is important to determine which kind of supplier you find easiest to access. In most cases, those who need hearing aids find that they have two primary options: medical facilities and independent suppliers.
Any doctor's office run by an otolaryngologist — an ear, nose and throat physician — may act as a hearing aid supplier. Those who prefer this type of supplier believe that these medical specialists do a more thorough job testing hearing before supplying a hearing aid. The doctor may also test for causes of hearing impairment, such as tumors and bacterial infections.
Hearing aid suppliers can also be independently owned. In these cases, you may want to purchase your hearing aid from an audiologist or a hearing aid specialist. While both kinds of professionals have received a significant amount of training, the audiologist is normally a medical doctor who specializes in hearing related issues. The hearing aid specialist, on the other hand, has been trained only to recommend and fit hearing aids.
In most cases, consumers choose a hearing aid supplier who has a good reputation, the kind of training preferred by the customer, and an office within reasonable commuting distance of the consumer's home. In order to choose the best privately owned hearing aid supplier, it can be important to identify exactly who staffs the office and when the most senior employees are available to do hearing assessments. Many consumers feel more at ease knowing that they are being assisted by a trained professional. When entering a privately owned supplier's location, you may ask specifically to speak to a professional who has a certain license, degree, or certification.
Both doctors' offices and independent suppliers of hearing aids may have either walk-in or appointment-only service. Those who live near a hearing aid supplier may not be as concerned with their supplier's hours. On the other hand, a consumer who needs to travel a great distance in order to get fitted for a hearing aid may want to ensure that he or she can be seen at a certain time. In order to choose the best hearing aid supplier, it can be a good idea to call ahead and find out if there is a wait to be seen and if it's necessary to make an appointment.


By: apops

Hearing aids can be purchased from a doctor's office or independent supplier.

By: dotweb.dk

Consumers often choose a hearing aid supplier who has a good reputation.