How do I Choose the Best Hair Loss Products for Women?
Choosing the best hair loss products for women depends on the nature and cause of the hair loss, if there is ongoing medical treatment for hair loss, and if the hair loss is permanent. There are multiple hair loss products available for women that may be made from natural and man-made ingredients. Hair loss products for women can include herbal and vitamin supplements, shampoos, conditioners, and oils. In addition, there are many scalp massagers and treatments that help to stop hair loss at the root. There are also non-surgical female hair loss products which can be worn to hide embarrassing patches of thinning hair such as wigs, scarves, hats, and weaves.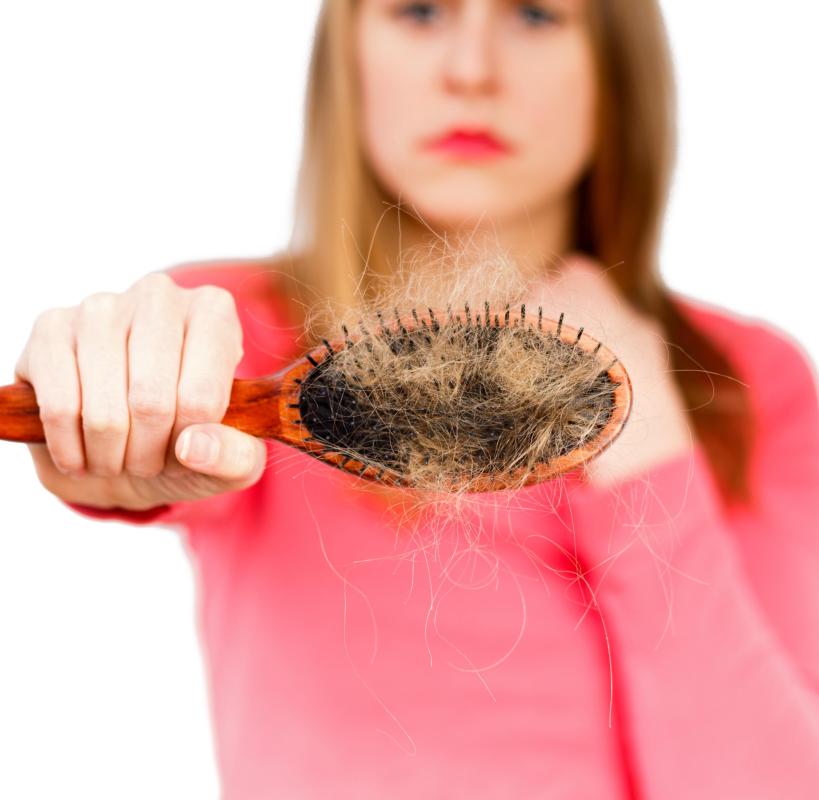 Hair loss in women can be attributed to many causes including hormonal imbalance, poor nutrition, physical and emotional stress. Sometimes women experience hair loss because of pregnancy, illness, medication side effects, and many other experiences unique to women. In many cases, feminine hair loss can be stopped and hair can be restored over time with the proper hair loss products for women.
Women may find that choosing the best hair loss treatment can be a confusing experience, particularly when there are so many choices. The first step in this process is seeking medical guidance and finding the cause of the hair loss before spending a fortune on hair loss products. Once the cause is determined, then the right hair loss product can be located to treat the problem correctly. For example, if a woman is suffering from a serious illness or an hormonal imbalance, this condition must be treated before any hair loss product will work.
Hair loss products for women can be chosen based on the severity of the problem. In some cases of hair loss, an over-the-counter product will work just fine, while in others, a doctor's prescription may be required. If hair loss is mild, then a nonprescription product will suffice. If hair loss is more severe, then a stronger, prescription hair loss product may be needed.
To choose hair loss products for women, consider the desired results and how quickly these can be achieved. Because average hair growth is relatively slow, a full head of hair can take as long as two to five years to achieve once treatment begins. It's important to select hair loss products for women that don't promise overnight success.
Hair loss products for women can include shampoos and conditioners.

Hair loss in women has many causes, including hormonal changes and poor nutrition.

Some people with thinning hair may use wigs.