How Do I Choose the Best Fitness Food Plan?
Starting a regular fitness routine is a great practice to get yourself in shape and feeling better about yourself, but it is important to remember that all fitness routines should be combined with a smart fitness food plan. Choosing the best one starts with determining your fitness goals. Some people simply want to stay in shape, while others want to build muscle; still others want to lose weight. Your goals will have the most significant impact on your fitness food plan, but some general rules of thumb do apply to all plans.
First and foremost, it is very important to avoid foods and drinks that contain high amounts of simple sugars. Candy and soda are the two biggest culprits, but your fitness food plan should generally avoid any junk foods, fried foods, and fast food, as these can negate much of the healthy benefits of any fitness routine. Avoid excessively fatty foods, but keep in mind that some fat is actually good for you. It is important to choose the right kinds of fats, however; avoid saturated fats like those found in fried foods, candy, and other junk foods. Some fats present in fish are actually quite good for you, so if you are not allergic, be sure to include various types of fish in your fitness food plan.
Whole grains are important additions to the fitness food plan, as are plenty of fruits and vegetables. These foods give your body the vitamins and minerals it needs to function efficiently. You should include more fruits and vegetables in your fitness food plan than meats if at all possible. You will end up getting plenty of protein from various meats, but you can also get protein from other, non-meat sources. Beans are a great way to get protein, as is tofu.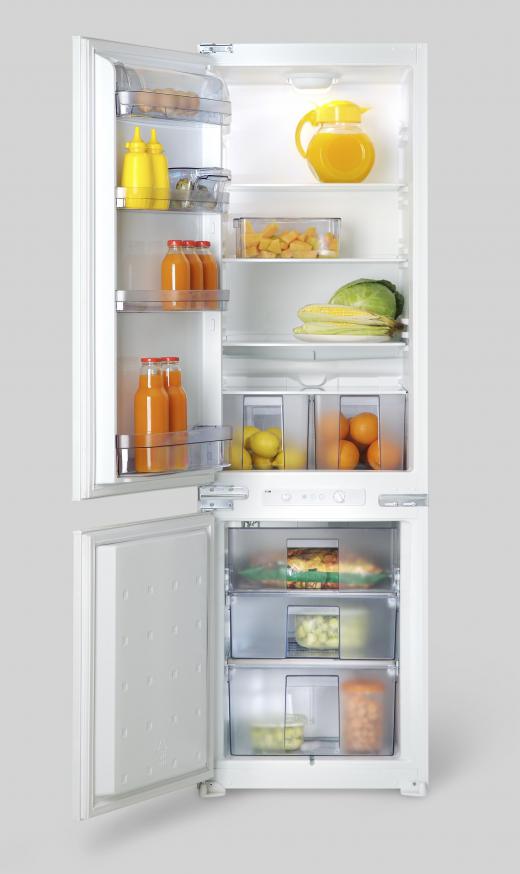 This does not, of course, mean that you need to eliminate meat from your diet altogether. You should, however, examine how much meat you eat and what types of meat you take in. It is a good idea to avoid too much red meat, and to avoid any meats that are treated with antibiotics or other chemicals. Organic meats are a great choice, though you should expect to pay more for them. Fish is a great way to get the protein you need, but again, you will need to choose the right types of fish. In general, smaller fish are better, but salmon and tuna are good choices as well. Tuna and salmon may contain high levels of mercury, however, so do not eat these too frequently.
AS FEATURED ON:
AS FEATURED ON:






By: JJAVA

Fried foods should be avoided on a fitness food plan.

By: mitev

Oranges and other raw fruits provide antioxidants, fiber, and nutrients.

By: SunnyS

Salmon, a source of Omega-3, can be part of a good fitness food plan.

By: freshidea

Cheap junk food should be eliminated while making a food plan.