How Do I Choose the Best Eye Gel?
Eye gels are available in a wide variety of formulas, but generally aim to achieve some combination of wrinkle prevention or treatment, reduction of puffiness, and elimination of dark under-eye circles. The formula that is best for you will suit the particular needs of your unique eye-area skin. An eye gel, while it serves similar purposes to eye creams, will usually be lighter-weight, faster to absorb, and feel cooler and more refreshing on the skin.
Choosing the best eye gel begins with assessing the condition of the skin around your eyes. Some people may wish to choose anti-wrinkle or anti-aging formulas, whereas other consumers may feel they are young enough that this quality is unnecessary. If you are past your mid-20s, it may be a good idea to start using an anti-wrinkle eye gel. This is because the skin around the eyes is extremely thin and delicate, and since it is also subjected to lots of movement and environmental stress, the eye area is one of the first to show signs of aging.
Another factor to consider when choosing an eye gel is whether or not you need to reduce the appearance of puffiness and under-eye circles. Many people find that fluid collects under their eyes overnight, resulting in swollen, tired-looking eyes. Eye gels are ideal for reducing puffiness because they usually contain cooling ingredients such as aloe and cucumber extract and can be refrigerated for even more refreshment. Selecting an eye gel that contains caffeine will also stimulate circulation and help release fluid and decrease swelling. Gels often come in small pots and are applied with the fingertips, but a product with a roller ball applicator will massage bloated skin and help reduce puffiness.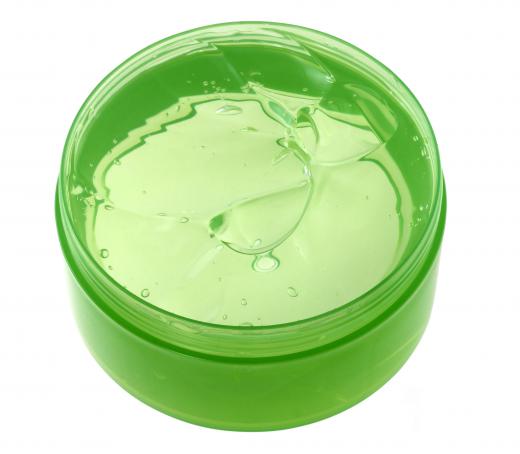 Under-eye circles can be addressed by using a brightening eye gel. Even though it is not usually possible to eliminate dark circles entirely with a cosmetic product, you can choose an eye gel that contains light-diffusing particles to diminish their appearance. Gels that have a slight shimmer to them will reflect light away from dark circles, making them less visible without makeup or easier to conceal under makeup. If you are also combating wrinkles or fine lines, you should be sure to choose a subtle brightening formula without large shimmer particles, as those obvious particles can make the signs of aging more noticeable.
Regardless of what precise problems you are hoping to address with eye gels, there are a few general tips to keep in mind. An eye gel should be very hydrating because the sensitive skin of the area around the eyes is prone to dryness that can exaggerate the look of wrinkles. Additionally, choose a mild gel to avoid skin irritation, preferably one that will not harm the eyes themselves if contact occurs. Do not use a regular face lotion in place of an eye gel because it may be too harsh or irritating and will most likely not have the appropriate concentrations of active ingredients.
AS FEATURED ON:
AS FEATURED ON:






By: Coprid

Eye gel.

By: sassyphotos

Aloe gel can reduce puffiness.

By: Arpad Nagy-Bagoly

Choosing the best eye gel begins with assessing the condition of the skin around the eyes.

By: WONG SZE FEI

Under-eye circles can be addressed by using a brightening eye gel.