How Do I Choose the Best Digital Watch?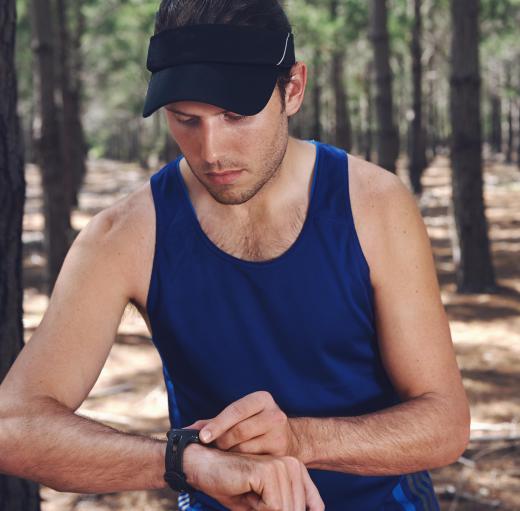 Choose your digital watch according to your lifestyle, for example, if you are sporty, buy a watch that has features to enhance your sporting activities. If it is for everyday use, consider buying a watch that looks smarter, perhaps featuring a metal strap. An attractive digital watch should not be excessively large and bulky. Avoid watches with too many unnecessary features as these can increase the cost and be confusing to operate. Your watch should have a clear, readable display and be comfortable to wear, especially when you are busy or exercising.
Think about when you will be wearing your digital watch. These types of watches are considered quite informal, but some are available with metal straps and bezels which give them a more formal appearance. You might want a digital watch for sports, so consider how it can enhance your sporting activities, for example, a stopwatch and timer are useful when running. If you are a swimmer or diver, look for a watch with a high level of water resistance, perhaps 100 meters.
The best digital watch need not carry many special features. Finding a watch with features tailored to your needs is important because some watches with too many features can be unnecessarily expensive and complicated. Extra features include GPS positioning, weather forecasting, video and music playback, and a calculator.
A quality digital watch will have an attractive design, look sleek and be well made. Some digital watches have a tendency to be very big, black and bulky. Choose a watch that looks good and make sure you try it on before you buy it.
Some digital watches have interchangeable color schemes, with additional colored straps and bezels to change to match your outfit. The best digital watch need not be very expensive. If you require an attractive digital watch with a few essential features, you need not pay a very high price for a quality watch that suits you.
It is important to ensure that your watch is a comfortable fit before you buy it. If you are using your watch for gym exercise, try to mimic the movements that you would make in the gym to find the best fitting watch for you. Talk to the store assistant to find out which watch brands are the most durable.
Examine the digital display on each watch. Make sure that the digits are readable in any light, and not too small or too large. Think about whether you would like the date to display on the home screen or whether you are happy to press a button to view the date.
Take a look at the instructions and assess whether they are excessively complicated. Setting an alarm for example, should not take more than a few steps. Also consider battery life and how easy it is to change it.


By: Warren Goldswain

A digital watch for sports can enhance sporting activities, such as a stopwatch and timer used when running.