How do I Choose the Best Destination Wedding Package?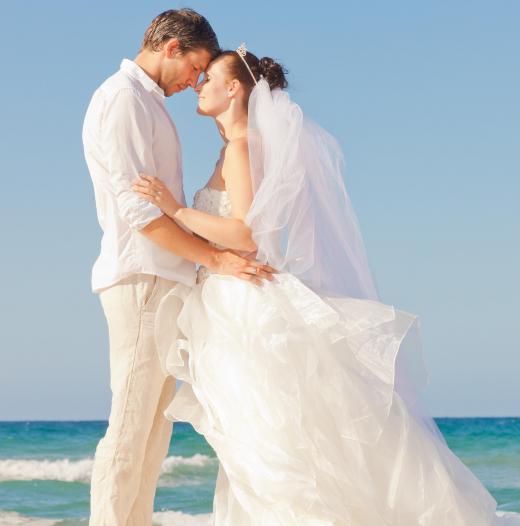 Getting married next to crystal blue waters, in front of dramatic sunsets, or in the ancient chapel of a medieval castle may involve traveling far afield from a hometown. Destination weddings are often filled with added elements of excitement, romance, and adventure that may appeal to many couples. Choosing the best destination wedding package involves careful consideration of several factors, including budget, features and amenities, and legal requirements.
A basic destination wedding package will usually include only the absolute necessities for a marriage ceremony. The most simple packages may only provide an officiant, witnesses, and a location for the wedding ceremony itself. From this starting point, services and other needs such as wedding flowers, music, photography, accommodations, reception meal, wedding cake may be added a la carte. A destination wedding package can be as simple, or as detailed, as the couple desires, though with each added service, the cost may increase significantly.
The good news about choosing a destination wedding package is that areas where destination weddings are popular typically have competitive rates and several different package options, making comparison shopping important to getting a good price. Popular locations include tropical islands, such as Hawaii, the Bahamas, or Tahiti, European destinations, and cruise ships. Choosing a location, such as Maui, will afford many more choices than choosing a specific location, such as a certain Scottish castle or specific cruise ship. On the other hand, for couples that simply want to show up and walk down the aisle without a lot of research or comparison shopping, a specific location can narrow down options considerably.
One important consideration when choosing a destination wedding package is the availability of accommodations for the couple and any friends or relatives that are attending. Many people think that if a couple is asking guests to travel a long distance, etiquette demands that the wedding party provide accommodations or at least give guests a list of local accommodations to suit their budgets. Choosing a destination wedding package that includes accommodations for the couple and their wedding party may help simplify the process for all involved.
It is important to check marriage license requirements before booking a destination wedding package. Popular wedding locations often have lenient residency requirements, since their tourist economies profit significantly from weddings. Nevertheless, couples may need to arrive several days before the ceremony to fill out paperwork, and may need to present identifying documents and proof of the termination of any prior marriages. In some cases, signatures from the couple's home embassy may even be required. Destination wedding services often have excellent information about legal requirements, and may even be able to assist couples with obtaining and filling out required documentation.


By: detailblick

Travel and hotel costs should be considered when planning an overseas wedding.

By: gzorgz

A destination wedding package may include such essentials as photography and the wedding cake.

By: MNStudio

Destination wedding packages may provide an officiant.

By: Deklofenak

The cost of a wedding photographer should be considered when planning a wedding.

By: tankist276

Tropical locations are popular for destination weddings.

By: Daddy Cool

Destination weddings held in Europe may include accommodations at a luxurious estate.