How Do I Choose the Best Cheap Basin?
When remodeling an existing bathroom or adding a new one, homeowners have a wide variety of bathroom fixtures from which to choose. One item that can add beauty as well as function to the room without costing a lot of money is the sink basin. To choose the best cheap basin, a homeowner should consider the layout of the bathroom, storage needs and the desired type of faucet.
Especially small bathrooms may require a basin that does not take up a lot of floor space. One choice for such a room is a wall-mounted sink, a typically cheap basin style. As the name implies, these types of basins are hung directly on the wall, with no supporting base beneath them. This installation may not be visually appealing, as it leaves the p-trap — a section of pipe between the sink and the wall — exposed. P-traps in different finishes, such as polished brass, are available to enhance the appearance of exposed plumbing, but these are far more expensive than standard polyvinyl chloride (PVC).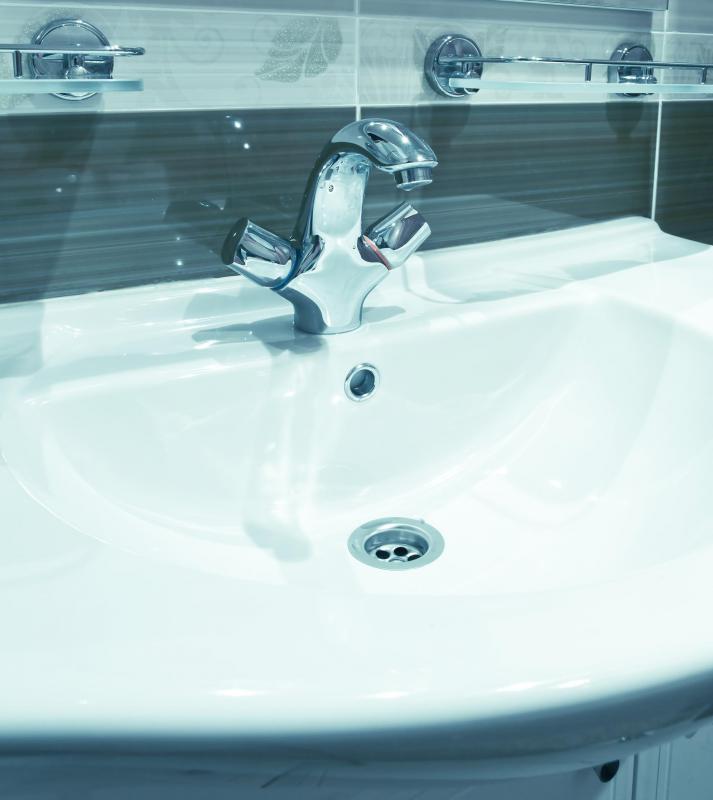 Another cheap basin option for small bathrooms is a pedestal sink. This fixture consists of two parts: a basin and a narrow base, or pedestal. The pedestal hides the p-trap from view, so inexpensive PVC may be used. Some pedestal sinks are sold with both pieces together, while others offer the basin and pedestal separately to allow homeowners to customize their sinks.
In larger bathrooms where space is not an issue but additional storage is needed, a vanity may be the best option. To keep costs low, one can purchase a cheap basin that either is molded into a countertop or dropped into a separate top with a cutout for the sink. Vanity units hide the plumbing just as pedestal sinks do and also offer counter space and hidden storage below the sink. Vanity tops and basins are available in a number of colors and styles, including faux marble designs and round, oval and seashell shaped sinks, though fancier designs and materials tend to cost more. The cabinets typically are either white or one of a number of wood finishes.
Bathroom sinks feature pre-drilled holes for faucet installation, regardless of whether one purchases an expensive or cheap basin. In the US, a basin typically has three evenly spaced holes that take up a total of 4 inches (about 10.16 cm) of space. This works for bathroom faucets that come assembled with one or two handles on a single base. Widespread faucets have separate pieces for the spout and each of the taps, and require a basin with three pre-drilled holes spread evenly over 8 inches (about 20.32 cm.)
By: flashpics

Wall-mounted sinks leave plumbing exposed.

By: Sylvie Bouchard

Vanity basins are available in a variety of styles.

By: Vladitto

The right basin can add beauty as well as function to a bathroom without costing a lot of money.