How do I Choose the Best Bamboo Curtains?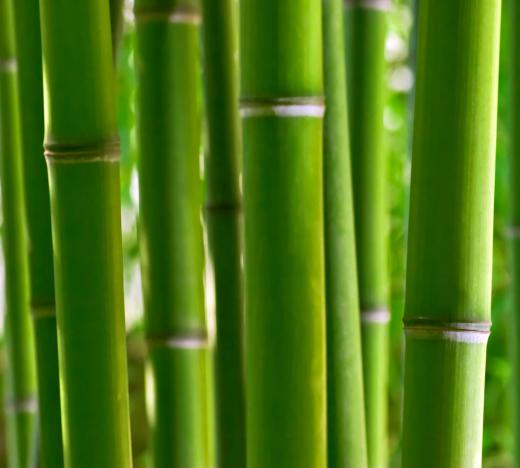 When choosing bamboo curtains, color is typically the most important consideration. If you accent the colors of bamboo curtain styles with the wood tones or other colors in your home, it can help bring a consistent, well-coordinated look to your rooms. Of course, you should also seek out quality bamboo curtain brands so you'll get long-lasting value for your money. Decide on the types of trim designs as well as the main colors and textures that best suit your windows.
Rough, natural bamboo blinds made up of many long sticks placed either vertically or horizontally are often the lowest priced option as well as the most rustic looking one. These types of bamboo curtains work best for informal decors and are often a good choice for those on a budget. Even a bamboo blind large enough to fit a sliding glass door is typically quite inexpensive. If this look is a little too plain for your style, you can add a valance of fabric at the top as well as more material at the sides, if desired. For rooms with plain walls or that need a dash of style, using lively printed fabric to frame a bamboo curtain can be a good idea.
As an alternative to fabric, bamboo printed curtains may serve the purpose. These often have a light to medium bamboo background with motifs such as palm trees or tropical flowers printed onto it. Printed bamboo curtains can add flavor to tropical or vacation decor as well as be used as a room divider.
For a more elegant approach that's suitable for formal living areas, bamboo curtain panels are a better choice. Typically available in darker neutrals, these curtain panels look almost like fabric yet also have the textured natural appearance of bamboo. They typically feature metal-trimmed eyelet holes that may be placed over a decorative curtain rod to add even more style to windows. Since these types of bamboo curtains are quite thin, they also tend to attractively diffuse the light.
Tab top styles of bamboo curtains can work well if you purchase them in an accent color that you have in your decor. Tropical color looks such as orange or turquoise are popularly used for fabric tabs and trimming around a center panel of bamboo. Like the eyelet styles of bamboo curtains, the tab tops are designed to fit over a decorative rod. Such details, when combined with the further detail of a bright color added to the bamboo, can create a strong style statement for any window.


By: Maceo

Bamboo stalks.