How do I Choose the Best Baby Car Seat?
When choosing a baby car seat, make sure that the product meets current safety standards. The seat should also fit your car and your child, even if it means purchasing another seat in a few months. For your ease of use and your child's comfort, you may also want to make sure that the seat you choose is easily adjustable, includes a washable cover and is comfortably padded.
In most countries, car seats are not allowed to be sold by manufacturers unless the seat meets a set of strict safety requirements. In most cases, you can be assured that any baby car seat you buy from a store is up to code; the seat should have a sticker on the side of the seat indicating that it meets, or exceeds, all current safety requirements. If you are purchasing a used car seat, this may not be the case.
Before choosing to purchase a baby car seat from an individual, make sure you know what year the seat was manufactured. Car seat safety standards change quite often, and the seat itself, even if it meets current safety regulations, can expire; most car seats are good for up to seven years. You will also want to make sure that the used baby car seat was not in an accident, as this can reduce its integrity. Make sure to inspect the shell of the seat, the plastic underneath the cover, for any cracks or signs of warping. In general, a baby car seat is best purchased brand new.
If you drive a small car, or your vehicle has a small backseat, you may want to try installing the car seat in your vehicle before purchasing it to ensure that it fits. Baby car seats face the back of the car; if the back of the car seat is pressed up on the front seats of the car, or wedged between the two front seats, this can reduce the safety of the item. With a little research, you should be able to find a seat that will safely fit in the back of your car.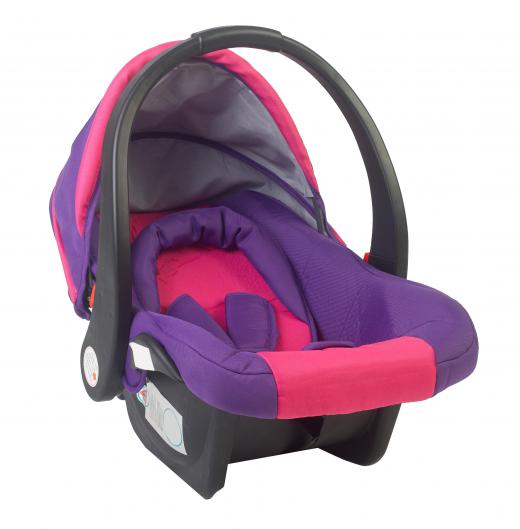 Baby car seats typically come in two types: infant and convertible. While children tend to grow out of infant seats relatively quickly, it may be best to purchase one for your child instead of simply getting the convertible seat. Infant seats are designed to help support the head of an infant who has yet to develop his or her neck muscles. While you can purchase inserts for a convertible seat to help with this, most experts recommend using an infant seat for children under 20 pounds (9 kilograms).
If possible, choose a baby car seat that has straps that are adjustable while the car seat is installed. Some seats require taking the car seat out of your vehicle to move the straps up and down. As babies grow rather rapidly, you will probably have to adjust the straps of the harness suddenly. Making adjustments as easy as possible can save you a lot of time.
You will also want to make sure that the baby car seat you choose has a washable cover and is comfortable for your baby. A washable cover will make it easier for you to keep your child's baby car seat clean and sanitary. A comfortable seat, often with extra padding, can help to protect your child in the event of a crash and make car rides more enjoyable for him or her on a day-to-day basis.
AS FEATURED ON:
AS FEATURED ON:






By: zakaz

A car seat.

By: Deyan Georgiev

Rear-facing car seats can protect children from sustaining serious injuries in frontal car crashes.

By: ramzi hachicho

Infant car seats are designed to face the rear end of the car for maximum safety.