How Do I Choose the Best Appetizer Catering?
Appetizer catering can often set the tone for a festive event. As such, choosing the right caterer is an important step. You can make several overtures to ensure a solid selection, including scheduling a meet-and-greet with the caterer and conducting online research. Each appetizer catering service has several features and options that may guide a decision. These include the following: full-service features, method of preparation, and method of pricing.
An appetizer — also known as an hors d-oeuvre — is a pre-dinner snack. Appetizers often consist of small, bite-sized finger foods. When served during a large gathering, they are usually placed on large trays, or appetizer platters. Some services may specialize in appetizer catering, while others offer appetizers as part of a more comprehensive service.
Caterers differ in the amount of services they provide. Some services prepare the foods, and then have them put on a table. If an individual prefers a more hands-on approach, catering organizations that use actual servers are likely a better option. In this type of service, employees from the catering service will move among guests and pass along appetizers. Mobile catering — in which catering employees move about and serve food from a cart or other vehicle — is a viable option for outdoor events.
For a comprehensive catering experience, full-service caterers will also not only be responsible for laying out meals, but they may decorate an entire room. This service is particularly useful for parties or events with themes where specific color coordinations and specific designs are needed. Full-service caterers are more likely to offer appetizer courses, as opposed to services that may focus more on quick box-lunch catering.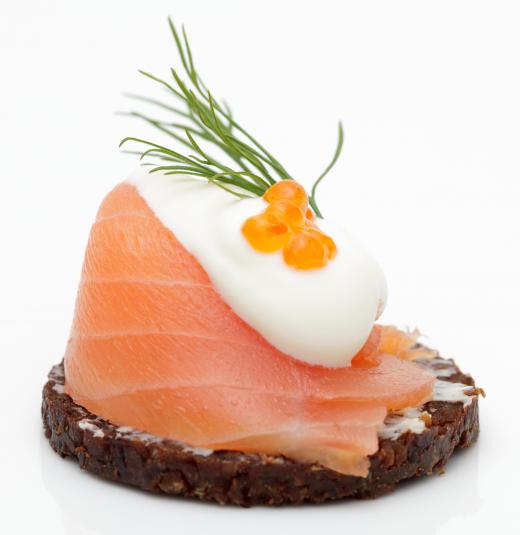 Another option you may want to consider is whether the appetizer catering food will be prepared on-site or prepared before the event. On-site preparation will of course likely mean fresher food, but last-minute preparation also increases the likelihood of unforeseen problems that might cause a delay in serving. When choosing between the two options, you should determine whether food freshness or security in serving is more important.
Since the food is the centerpiece of appetizer catering, it should ideally be sampled. Appointments can be schedules with most organizations where you can ask questions and gain more information about specific services. In many cases, the caterer will also have samples from the menu on hand. You can then taste potential appetizers and make a decision based on preferences.
Pricing is of course a major consideration for many individuals as well. You should ideally do some research and determine the higher quality appetizer options. Consultation with the caterer and other individuals who have used catering services can also provide insight. One common and useful price model for appetizer catering is per-person, which means that the pricing rate is flat and fixed for each guest. The overall cost will be determined by the amount of people present at the event.
Caterers provide food services in a large number of settings, from private parties to large corporate events. When choosing an appetizer caterer service, you should take into account the number of guests and the diversity of potential taste preferences. A larger full-service business will likely be needed for big gatherings. These organizations are also more likely to have a wider selection of potential foods.
Other steps you can take to narrow down a decision mainly involve research. Many websites rate and review regional caterers. Some catering businesses have websites themselves that provide pictures of past catered events. This may give a potential customer a good idea of the caterer's methods and presentation. Organizations, such as the United States Better Business Bureau, which give rankings to businesses based on a variety of factors can provide some valuable indicators of business quality as well.
AS FEATURED ON:
AS FEATURED ON:






Crostini with mozzarella cheese, chopped tomato and basil.

Shrimp appetizers.

Salmon canapés with crème fraîche, caviar and dill.

By: Lsantilli

An antipasti platter.

By: Natalia Mylova

Tapenade served with a slice of bread makes a popular French appetizer.

By: Barbara Helgason

Cheese and crackers are a popular appetizer offered by most caterers.

By: Betty Abrantes

Some caterers specialize in caviar, lobster, and other top-shelf ingredients.

By: JJAVA

Cocktail sausages are a common appetizer item.

By: sattriani

Appetizers are often served buffet style.

By: Kybele

Chicken wings are always popular at parties.

By: .shock

A good caterer should be able to deliver appetizers and hors d'oeuvres that are suitable for vegetarians and vegans.