How Do I Choose the Best Aerobics Microphone?
When shopping for an aerobics microphone, search for sweat-proof microphones that will fit comfortably on your head or around your neck while simultaneously giving good sound quality. A microphone with an adjustable mouthpiece is a good idea, but be sure that the microphone is not too obtrusive in the position that you are most likely to wear it. Consider selecting an aerobics microphone that is lightweight, but durable enough to be used repeatedly for extreme physical activities. Speaking to other aerobics instructors about microphones may help you in making a good purchasing decision.
Aerobics microphones come in a variety of sizes and styles. Investing time into researching and comparing multiple brands may help you make a decision to purchase the microphone that is right for you. If possible, ask other aerobics instructors which types or brands of microphones they prefer, as well as if there are any particular types or brands that should be avoided.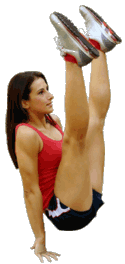 When leading aerobics classes, you are likely to sweat, so purchasing an aerobics microphone that provides a barrier between outside moisture and the inner wiring of the instrument is important. Most people who teach aerobic exercise classes do not even consider a microphone that is not sweat-resistant, as such is not advisable. Wireless microphones are also used for public speaking events and demonstrations where such a feature may be less of an issue, so it is important to look for this feature on any brand you consider.
During aerobics classes, it is important to use a microphone that will fit comfortably on your head and not slip off during movement. Many brands feature an adjustable head strap and some even fit around the back of the neck. Some also feature adjustable mouthpieces, which can help improve a microphone's comfort and output quality. You may want to consider trying a few different types on to ensure their comfort before making a final decision to purchase an aerobics microphone.
Sound quality is very important when choosing an aerobics microphone. While choosing a microphone that is comfortable and lightweight enough to not interfere with your activity is important, it is also important that the sound quality of a microphone be quite high. Consider, also, that an aerobics microphone may be used multiple times per day during strenuous activity. It is, therefore, important to choose an aerobics microphone that can endure extreme use without sacrificing quality and comfort.
AS FEATURED ON:
AS FEATURED ON:






Woman exercising