How do I Build Muscle Quickly?
Building muscle is a goal that many individuals, men in particular, tend to share; it increases physical strength, improves appearance and tends to boost one's confidence. Sometimes, it becomes important to build muscle quickly for any of a variety of reasons, such as to prepare for a job or sport that is particularly physically taxing. Some also may need to quickly prepare for the role of a muscular character in a play or movie. Whatever the reason, to build muscle quickly, one must maintain a healthy, protein-rich diet and an intense, rigorous schedule of exercise with a strong focus on weight lifting.
Diet is a very important part of muscle building, as the body needs specific nutrients to produce muscles. Protein, in particular, is essential for those who wish to build muscle quickly. Eggs and meats are good sources of protein and will help build muscles and provide energy throughout the day. Carbohydrates are also very important because the body uses them to fuel the energy needed for exercise and other day-to-day activities. Pastas and whole-grain breads are both excellent sources of carbohydrates that provide a great deal of energy without excessive and unhealthy sugar.
Just adding protein to one's diet in the form of eggs or meat generally isn't enough to build muscle quickly. It is sometimes helpful to add protein supplements to one's diet, as they contain amino acids that can be very helpful for building muscle. Protein supplements come in a few different forms. Some people favor protein bars, as they are quick and convenient, while others favor protein shakes because they can control the amount of protein they add. While balanced meals are very important for building muscles, extra protein is absolutely essential for those who wish to build muscle quickly.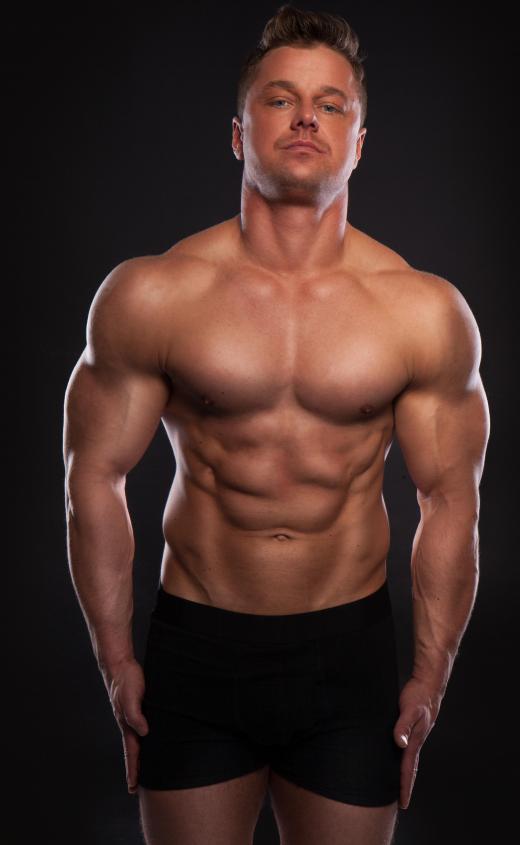 Exercise is also very important; the size of muscles will not increase if the muscles are not used. Free weights are particularly effective, as they put a significant amount of stress on the muscles and signal the need to increase in size and strength. Free weights often provide a more rigorous workout than weight machines do, but weight machines are also viable options for increasing muscle mass.
Some important exercises that build muscle quickly can and should be done without weights. Pull-ups, squats, and crunches all work muscles that are difficult to work through the use of weights. They also improve muscular endurance and increase stamina.
It is important to take a day of rest for every two or three days of intense exercise. Working out tears the muscles, and they need time to reform and to grow. Not giving muscles time to grow and heal can result in injury and generally will not help build muscle quickly.
AS FEATURED ON:
AS FEATURED ON:






By: Ivan Grlic

Weight lifting is a quick way to build muscle.

By: stryjek

Protein is essential for those who wish to build muscle quickly.

By: CLIPAREA.com

Learning about the muscular system can help a bodybuilder understand how to build mass properly and at a quicker pace.

By: Christopher Howey

A person must lift heavy weights in low repetitions in order to build muscle mass.