How do I Become a Trial Lawyer?
In most cases, it is not easy to become a trial lawyer. It usually requires many years of dedicated study that eventually culminates in obtaining a law degree. In the United States (US), degree recipients must pass a difficult examination created and administered by the US government to obtain a license to practice law. The testing procedure takes about two days to complete and is typically referred to as a bar exam. In order to keep the license, a trial lawyer must abide by a code of ethics set forth by the legal administrators within the state she is licensed and may be required to pay membership fees to state bar associations.
Most high school students are usually unsure of their eventual career path; however, high school grades can have an impact on becoming a trial lawyer. This is because some of the best jobs for attorneys are reserved for graduates of top rated universities and law schools. Entry into those universities is usually based on high school grade point averages and Scholastic Aptitude Tests (SATs). It is possible to become a trial lawyer without performing well in high school, but it is usually much more difficult and may take more time.
Students who want to become a trial lawyer usually take their first real steps when they begin college. No matter the eventual major, the first two years of college are usually devoted to taking core curriculum. After that, the student should begin taking coursework in pre-law studies. Upon obtaining a bachelor's degree, students can then test for entry into an approved law school. In the US, an approved law school is a school that has been accredited by the American Bar Association (ABA).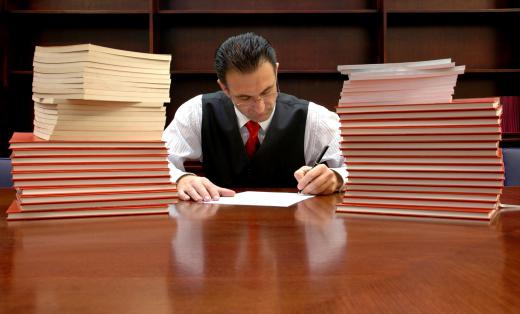 Attorneys typically specialize while they are in law school, and students who would like to become a trial lawyer should probably slant their studies toward criminal law. These courses should prepare them for working within the judicial system. Trial lawyers are typically prosecutors or defense attorneys. Prosecutors are attorneys who litigate on behalf of the governing body that has brought charges, while a defense attorney is a lawyer who defends a client against these charges.
Not all trials involve criminal accusations. Many cases that go to trial take place in civil court. Civil court cases that often go to trial include personal injury, medical malpractice, and contract disputes. A well-rounded trial attorney should be prepared to handle both criminal cases and cases that go to civil court.
AS FEATURED ON:
AS FEATURED ON:






By: Lane Erickson

Obtaining a Juris Doctor by completing law school is one step toward becoming a trial lawyer.

By: Corgarashu

Becoming a trial lawyer requires many years of study that eventually result in obtaining a law degree.